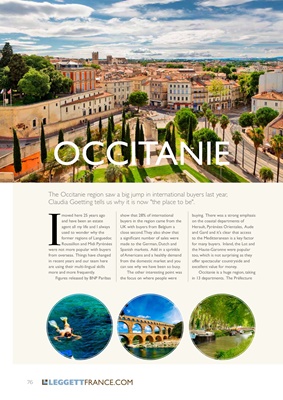 76 LEGGETTFRANCE.COM
OCCITANIE
I
moved here 25 years ago
and have been an estate
agent all my life and I always
used to wonder why the
former regions of Languedoc
Roussillon and Midi Pyrénées
were not more popular with buyers
from overseas. Things have changed
in recent years and our team here
are using their multi-lingual skills
more and more frequently.
Figures released by BNP Paribas
The Occitanie region saw a big jump in international buyers last year,
Claudia Goetting tells us why it is now "the place to be".
show that 28% of international
buyers in the region came from the
UK with buyers from Belgium a
close second. They also show that
a significant number of sales were
made to the German, Dutch and
Spanish markets. Add in a sprinkle
of Americans and a healthy demand
from the domestic market and you
can see why we have been so busy.
The other interesting point was
the focus on where people were
buying. There was a strong emphasis
on the coastal departments of
Herault, Pyrénées Orientales, Aude
and Gard and it's clear that access
to the Meditteranean is a key factor
for many buyers. Inland, the Lot and
the Haute-Garonne were popular
too, which is not surprising as they
offer spectacular countryside and
excellent value for money.
Occitanie is a huge region, taking
in 13 departments. The Préfecture