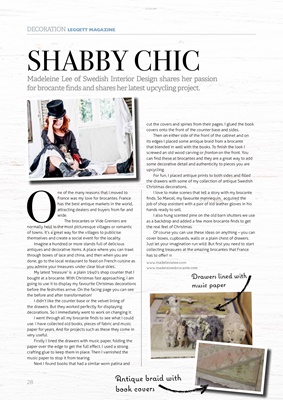 Madeleine Lee of Swedish Interior Design shares her passion
for brocante finds and shares her latest upcycling project.
O
ne of the many reasons that I moved to
France was my love for brocantes. France
has the best antique markets in the world,
attracting dealers and buyers from far and
wide.
The brocantes or Vide Greniers are
normally held in the most picturesque villages or romantic
of towns. It's a great way for the villages to publicise
themselves and create a social event for the locality.
Imagine a hundred or more stands full of delicious
antiques and decorative items. A place where you can trawl
through boxes of lace and china, and then when you are
done, go to the local restaurant to feast on French cuisine as
you admire your treasures under clear blue skies.
My latest 'treasure' is a plain 1940's shop counter that I
bought at a brocante. With Christmas fast approaching, I am
going to use it to display my favourite Christmas decorations
before the festivities arrive. On the facing page you can see
the before and after transformation!
I didn't like the counter base or the velvet lining of
the drawers. But they worked perfectly for displaying
decorations. So I immediately went to work on changing it.
I went through all my brocante finds to see what I could
use. I have collected old books, pieces of fabric and music
paper for years. And for projects such as these they come in
very useful.
Firstly I lined the drawers with music paper, folding the
paper over the edge to get the full effect. I used a strong
crafting glue to keep them in place. Then I varnished the
music paper to stop it from tearing.
Next I found books that had a similar worn patina and
SHABBY CHIC
cut the covers and spines from their pages. I glued the book
covers onto the front of the counter base and sides.
Then on either side of the front of the cabinet and on
its edges I placed some antique braid from a brocante
that blended in well with the books. To finish the look I
screwed an old wood carving or fronton on the front. You
can find these at brocantes and they are a great way to add
some decorative detail and authenticity to pieces you are
upcycling.
For fun, I placed antique prints to both sides and filled
the drawers with some of my collection of antique Swedish
Christmas decorations.
I love to make scenes that tell a story with my brocante
finds. So Marcel, my favourite mannequin, acquired the
job of shop assistant with a pair of kid leather gloves in his
hands ready to sell.
I also hung scented pine on the old barn shutters we use
as a backdrop and added a few more brocante finds to get
the real feel of Christmas.
Of course you can use these ideas on anything - you can
cover boxes, cupboards, walls or a plain chest of drawers.
Just let your imagination run wild. But first you need to start
collecting treasures at the amazing brocantes that France
has to offer! ZDrawers lined with
music paper
Antique braid with
book coversZ
28
PHOTO : C.K MARRIOTT
DECORATION LEGGETT MAGAZINE