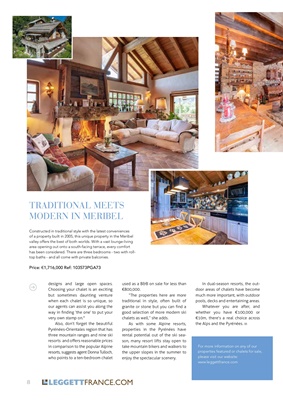 TRADITIONAL MEETS
MODERN IN MERIBEL
Constructed in traditional style with the latest conveniences
of a property built in 2005, this unique property in the Meribel
valley offers the best of both worlds. With a vast lounge-living
area opening out onto a south-facing terrace, every comfort
has been considered. There are three bedrooms - two with rolltop baths - and all come with private balconies.
Price: €1,716,000 Ref: 103573PGA73
LEGGETTFRANCE.COM
8
designs and large open spaces.
Choosing your chalet is an exciting
but sometimes daunting venture
when each chalet is so unique, so
our agents can assist you along the
way in finding 'the one' to put your
very own stamp on."
Also, don't forget the beautiful
Pyrénées-Orientales region that has
three mountain ranges and nine ski
resorts and offers reasonable prices
in comparison to the popular Alpine
resorts, suggests agent Donna Tulloch,
who points to a ten-bedroom chalet
used as a B&B on sale for less than
€800,000.
"The properties here are more
traditional in style, often built of
granite or stone but you can find a
good selection of more modern ski
chalets as well," she adds.
As with some Alpine resorts,
properties in the Pyrénées have
rental potential out of the ski season, many resort
lifts stay open to
take mountain bikers and walkers to
the upper slopes in the summer to
enjoy the spectacular scenery.
In dual-season resorts, the outdoor areas
of chalets have become
much more important, with outdoor
pools, decks and entertaining areas.
Whatever you are after, and
whether you have €100,000 or
€10m, there's a real choice across
the Alps and the Pyrénées.
For more information on any of our
properties featured or chalets for sale,
please visit our website: