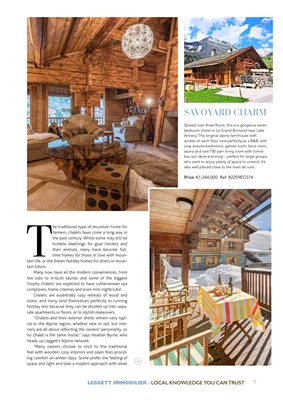 T
he traditional type of mountain home for
farmers, chalets have come a long way in
the past century. Whilst some may still be
humble dwellings for goat herders and
their animals, many have become fulltime homes for
those in love with mountain life,
or the dream holiday homes for skiers or mountain bikers.
Many now have all the modern conveniences, from
hot tubs to in-built saunas and some of the biggest
'trophy chalets' are expected to have subterranean spa
complexes, home cinemas and even mini nightclubs!
Chalets are essentially cosy retreats of wood and
stone, and many lend themselves perfectly to running
holiday lets because they can be divided up into separate
apartments or floors, or to stylish makeovers.
"Chalets and their exterior shells remain very typical to the Alpine region,
whether new or old, but interiors
are all about reflecting the owners' personality, so
no chalet is the same inside," says Heather Byrne, who
heads up Leggett's Alpine network.
"Many owners choose to stick to the traditional
feel with wooden, cosy interiors and open fires providing comfort
on winter days. Some prefer the feeling of
space and light and take a modern approach with sleek
SAVOYARD CHARM
Spread over three floors, this is a gorgeous seven
bedroom chalet in Le Grand Bornand near Lake
Annecy. The original alpine farmhouse with
access on each floor runs perfectly as a B&B, with
cosy ensuite bedrooms, games room, boot room,
sauna and vast 100 sqm living room with corner
bar, sun deck and snug - perfect for large groups
who want to enjoy plenty of space to unwind. It's
also well placed close to the main ski runs.
Price: €1,344,000 Ref: 82259ECS74
LEGGETT IMMOBILIER - LOCAL KNOWLEDGE YOU CAN TRUST 7