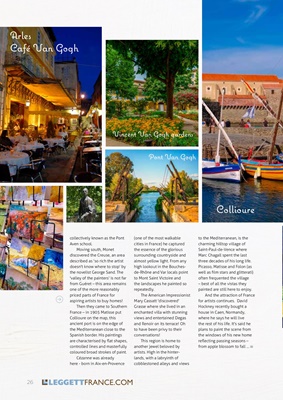 (one of the most walkable
cities in France) he captured
the essence of the glorious
surrounding countryside and
almost yellow light. From any
high lookout in the Bouches-
de-Rhône and Var locals point
to Mont Saint Victoire and
the landscapes he painted so
repeatedly.
The American Impressionist
Mary Cassatt 'discovered'
Grasse where she lived in an
enchanted villa with stunning
views and entertained Degas
and Renoir on its terrace! Oh
to have been privy to their
conversations!
This region is home to
another jewel beloved by
artists. High in the hinterlands, with a labryinth of
cobblestoned alleys and views
to the Mediterranean, is the
charming hilltop village of
Saint-Paul-de-Vence where
Marc Chagall spent the last
three decades of his long life.
Picasso, Matisse and Folon (as
well as film stars and glitterati)
often frequented the village
- best of all the vistas they
painted are still here to enjoy.
And the attraction of France
for artists continues. David
Hockney recently bought a
house in Caen, Normandy,
where he says he will live
the rest of his life. It's said he
plans to paint the scene from
the windows of his new home
reflecting passing seasons -
from apple blossom to fall …
collectively known as the Pont
Aven school.
Moving south, Monet
discovered the Creuse, an area
described as 'so rich the artist
doesn't know where to stop' by
the novelist George Sand. The
'valley of the painters' is not far
from Guéret - this area remains
one of the more reasonably
priced parts of France for
aspiring artists to buy homes!
Then they came to Southern
France - in 1905 Matisse put
Collioure on the map, this
ancient port is on the edge of
the Mediterranean close to the
Spanish border. His paintings
are characterised by flat shapes,
controlled lines and masterfully
coloured broad strokes of paint.
Cézanne was already
here - born in Aix-en-Provence
Arles
Café Van Gogh
Vincent Van Gogh gardens
Pont Van Gogh
Collioure
LEGGETTFRANCE.COM
26