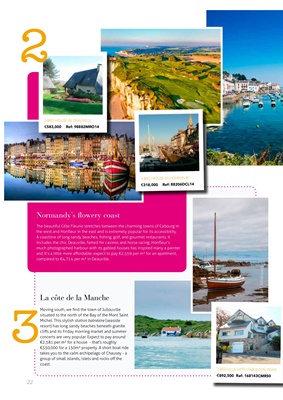 22 The beautiful Côte Fleurie stretches between the charming towns of Cabourg in
the west and Honfleur in the east and is extremely popular for its accessibility.
A coastline of long sandy beaches, fishing, golf, and gourmet restaurants, it
includes the chic Deauville, famed for casinos and horse racing. Honfleur's
much photographed harbour with its gabled houses has inspired many a painter
and it's a little more affordable: expect to pay €2,559 per m² for an apartment,
compared to €4,714 per m² in Deauville.
Normandy's flowery coast
3 BED HOUSE IN DEAUVILLE
€583,000 Ref: 98882MRO14
3 BED HOUSE IN HONFLEUR
€318,000 Ref: 88206DCL14
La côte de la Manche
7 BED VILLA WITH FABULOUS VIEWS
€892,500 Ref: 168143CMR50
3
2
Moving south, we find the town of Jullouville
situated to the north of the Bay of the Mont Saint
Michel. This stylish station balnéaire (seaside
resort) has long sandy beaches beneath granite
cliffs and its Friday morning market and summer
concerts are very popular.  Expect to pay around
€2,381 per m² for a house - that's roughly
€350,000 for a 150m² property. A short boat ride
takes you to the calm archipelago of Chausey - a
group of small islands, islets and rocks off the
coast.
Playful Parisians have been taking the train
Jef Wodniack