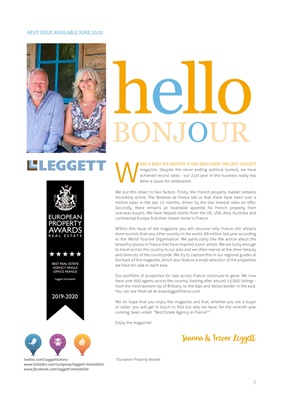 LEGGETTPRESTIGE
3
W
HAT A BUSY SIX MONTHS IT HAS BEEN SINCE THE LAST LEGGETT
magazine. Despite the never ending political turmoil, we have
achieved record sales - our 21st year in the business really has
been a cause for celebration.
We put this down to two factors. Firstly, the French property market remains
incredibly active. The Notaires de France tell us that there have been over a
million sales in the last 12 months, driven by the low interest rates on offer.
Secondly, there remains an insatiable appetite for French property from
overseas buyers. We have helped clients from the UK, USA, Asia, Australia and
continental Europe find their dream home in France.
Within this issue of the magazine you will discover why France still attracts
more tourists than any other country in the world, 89 million last year according
to the World Tourism Organisation. We particularly like the article about the
beautiful places in France that have inspired iconic artists. We are lucky enough
to travel across the country in our jobs and we often marvel at the sheer beauty
and diversity of the countryside. We try to capture this in our regional guides at
the back of the magazine, which also feature a small selection of the properties
we have for sale in each area.
Our portfolio of properties for sale across France continues to grow. We now
have over 600 agents across the country, looking after around 15,000 listings -
from the most western tip of Brittany, to the Alps and Italian border in the east.
You can see them all at www.leggettfrance.com
We do hope that you enjoy the magazine and that, whether you are a buyer
or seller, you will get in touch to find out why we have, for the seventh year
running, been voted "Best Estate Agency in France*".
Enjoy the magazine!
*European Property Awards
Joanna & Trevor Leggett
NEXT ISSUE AVAILABLE JUNE 2020
twitter.com/LeggettsImmo
www.linkedin.com/company/leggett-immobilier
www.facebook.com/leggett.immobilier helloBONJOUR