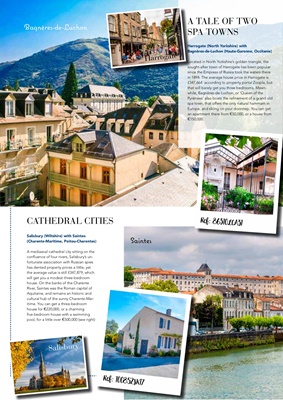 A TALE OF TWO
SPA TOWNS
Harrogate (North Yorkshire) with
Bagnères-de-Luchon (Haute-Garonne, Occitanie)
Located in North Yorkshire's golden triangle, the
sought-after town of Harrogate has been popular
since the Empress of Russia took the waters there
in 1894. The average house price in Harrogate is
£347,664 according to property portal Zoopla, but
that will barely get you three bedrooms. Meanwhile, Bagnères-de-Luchon,
or 'Queen of the
Pyrénées' also boats the refinement of a grand old
spa town, that offers the only natural hammam in
Europe, and skiing on your doorstep. You can get
an apartment there from €50,000, or a house from
€150,000.
CATHEDRAL CITIES
Salisbury (Wiltshire) with Saintes
(Charente-Maritime, Poitou-Charentes)
A mediaeval cathedral city sitting on the
confluence of four rivers, Salisbury's unfortunate association with Russian spies
has dented property prices a little, yet
the average value is still £347,879, which
will get you a modest three-bedroom
house. On the banks of the Charente
River, Saintes was the Roman capital of
Aquitaine, and remains an historic and
cultural hub of the sunny Charente-Maritime. You
can get a three-bedroom
house for €220,000, or a charming
five-bedroom house with a swimming
pool, for a little over €500,000 (see right)
Ref: 100852JK17
Ref: 86310LCA31
Saintes
Salisbury
Harrogate
Bagnères-de-Luchon Albert Pego