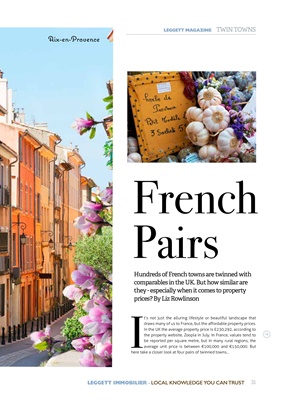 I
t's not just the alluring lifestyle or beautiful landscape that
draws many of us to France, but the affordable property prices.
In the UK the average property price is £230,292, according to
the property website, Zoopla in July. In France, values tend to
be reported per square metre, but in many rural regions, the
average unit price is between €100,000 and €150,000. But
here take a closer look at four pairs of twinned towns...
Hundreds of French towns are twinned with
comparables in the UK. But how similar are
they - especially when it comes to property
prices? By Liz Rowlinson
Aix-en-Provence French
Pairs 31
LEGGETT IMMOBILIER - LOCAL KNOWLEDGE YOU CAN TRUST
LEGGETT MAGAZINE TWIN TOWNS