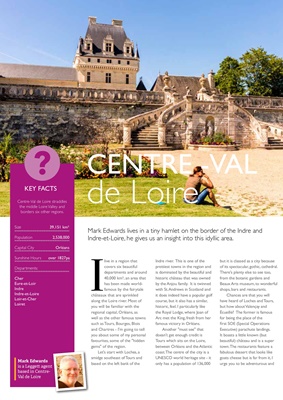 68
CENTRE -VAL
de Loire but it is classed as a city because
of its spectacular, gothic, cathedral.
There's plenty else to see too,
from the botanic gardens and
Beaux Arts museum, to wonderful
shops, bars and restaurants.
Chances are that you will
have heard of Loches and Tours,
but how about Valençay and
Écueillé? The former is famous
for being the place of the
first SOE (Special Operations
Executive) parachute landings.
It boasts a little known (but
beautiful) château and is a super
town. The restaurants feature a
fabulous dessert that looks like
goats cheese but is far from it, I
urge you to be adventurous and
I
live in a region that
covers six beautiful
departments and around
40,000 km², an area that
has been made worldfamous by
the fairytale
châteaux that are sprinkled
along the Loire river. Most of
you will be familiar with the
regional capital, Orléans, as
well as the other famous towns
such as Tours, Bourges, Blois
and Chartres - I'm going to tell
you about some of my personal
favourites, some of the "hidden
gems" of the region.
Let's start with Loches, a
smidge southeast of Tours and
based on the left bank of the
Mark Edwards lives in a tiny hamlet on the border of the Indre and
Indre-et-Loire, he gives us an insight into this idyllic area.
Indre river. This is one of the
prettiest towns in the region and
is dominated by the beautiful and
historic château that was owned
by the Anjou family. It is twinned
with St. Andrews in Scotland and
it does indeed have a popular golf
course, but it also has a similar,
historic, feel. I particularly like
the Royal Lodge, where Joan of
Arc met the King, fresh from her
famous victory in Orléans.
Another "must see" that
doesn't get enough credit is
Tours which sits on the Loire,
between Orléans and the Atlantic
coast. The centre of the city is a
UNESCO world heritage site - it
only has a population of 136,000
KEY FACTS
Centre-Val de Loire straddles
the middle Loire Valley and
borders six other regions.
Size 39,151 km²
Population 2,538,000
Capital City Orléans
Sunshine Hours over 1827pa
Departments:
Cher
Eure-et-Loir
Indre
Indre-et-Loire
Loir-et-Cher
Loiret
Mark Edwards
is a Leggett agent
based in CentreVal
de Loire
?