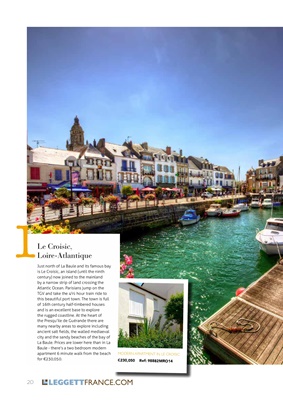 20 LEGGETTFRANCE.COM
9.
Just north of La Baule and its famous bay
is Le Croisic, an island (until the ninth
century) now joined to the mainland
by a narrow strip of land crossing the
Atlantic Ocean. Parisians jump on the
TGV and take the 4½ hour train ride to
this beautiful port town. The town is full
of 16th century half-timbered houses
and is an excellent base to explore
the rugged coastline. At the heart of
the Presqu'ile de Guérande there are
many nearby areas to explore including
ancient salt fields, the walled mediaeval
city and the sandy beaches of the bay of
La Baule. Prices are lower here than in La
Baule - there's a two bedroom modern
apartment 6 minute walk from the beach
for €230,050.
Le Croisic,
Loire-Atlantique 1
MODERN APARTMENT IN LE CROISIC
€230,050 Ref: 98882MRO14