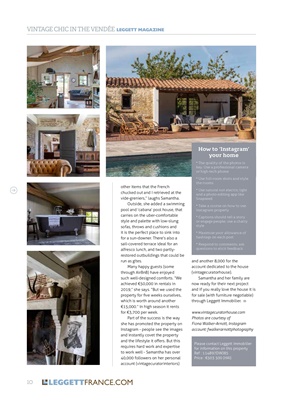 10 LEGGETTFRANCE.COM
VINTAGE CHIC IN THE VENDÉE LEGGETT MAGAZINE
and another 8,000 for the
account dedicated to the house
(vintagecuratorhouse).
Samantha and her family are
now ready for their next project
and if you really love the house it is
for sale (with furniture negotiable)
through Leggett Immobilier.
Photos are courtesy of
Fiona Walker-Arnott, Instagram
account: fwalkerarnottphotography
other items that the French
chucked out and I retrieved at the
vide-greniers," laughs Samantha.
Outside, she added a swimming
pool and 'cabana' pool house, that
carries on the uber-comfortable
style and palette with low-slung
sofas, throws and cushions and
it is the perfect place to sink into
for a sun-downer. There's also a
sail-covered terrace ideal for an
alfresco lunch, and two partlyrestored
outbuildings that could be
run as gîtes.
Many happy guests (some
through AirBnB) have enjoyed
such well-designed comforts. "We
achieved €50,000 in rentals in
2019," she says. "But we used the
property for five weeks ourselves,
which is worth around another
€15,000." In high season it rents
for €3,700 per week.
Part of the success is the way
she has promoted the property on
Instagram - people see the images
and instantly covet the property
and the lifestyle it offers. But this
requires hard work and expertise
to work well - Samantha has over
40,000 followers on her personal
account (vintagecuratorinteriors)
How to 'Instagram'
your home
* The quality of the photos is
key. Use a professional camera
or high-tech phone
* Use full-room shots and style
the rooms
* Use natural not electric light
and a photo-editing app like
Snapseed
* Take a course on how to use
Instagram properly
* Captions should tell a story
or engage people; use a chatty
style
* Maximise your allowance of
hashtags on each post
* Respond to comments; ask
questions to elicit feedback
Please contact Leggett Immobilier
for information on this property
Ref : 114897DWJ85
Price : €503 500 (HAI)