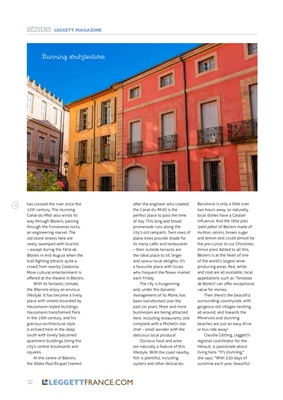 BÉZIERS LEGGETT MAGAZINE
LEGGETTFRANCE.COM
32
Barcelona is only a little over
two hours away, so naturally,
local dishes have a Catalan
influence. And the little pies
'petit pâtes' of Béziers made of
mutton, raisins, brown sugar
and lemon zest could almost be
the pre-cursor to our Christmas
mince pies! Added to all this,
Béziers is at the heart of one
of the world's largest wineproducing
areas. Red, white
and rosé are all available; local
appellations such as 'Terrasses
de Béziers' can offer exceptional
value for money.
Then there's the beautiful
surrounding countryside, with
gorgeous old villages nestling
all around, and towards the
Minervois and stunning
beaches are just an easy drive
or bus ride away!
Claudia Götting, Leggett's
regional coordinator for the
Hérault, is passionate about
living here. "It's stunning,"
she says. "With 330 days of
sunshine each year, beautiful
has crossed the river since the
12th century. The stunning
Canal-du-Midi also winds its
way through Béziers, passing
through the Fonseranes locks,
an engineering marvel. The
old stone streets here are
rarely swamped with tourists
- except during the Féria de
Béziers in mid-August when the
bull-fighting attracts quite a
crowd from nearby Catalonia.
More cultural entertainment is
offered at the theatre in Béziers.
With its fantastic climate,
the Biterrois enjoy an envious
lifestyle. It has become a lively
place with streets bounded by
Haussmann-styled buildings.
Haussmann transformed Paris
in the 19th century, and his
gracious architectural style
is echoed here in the deep
south with lovely balconied
apartment buildings lining the
city's central boulevards and
squares.
At the centre of Béziers,
the Allées Paul-Ricquet (named
after the engineer who created
the Canal-du-Midi) is the
perfect place to pass the time
of day. This long and broad
promenade runs along the
city's old ramparts. Twin rows of
plane trees provide shade for
its many cafés and restaurants
- their outside terraces are
the ideal place to sit, linger
and savour local delights. It's
a favourite place with locals
who frequent the flower market
each Friday.
The city is burgeoning
and, under the dynamic
management of its Maire, has
been transformed over the
past six years. More and more
businesses are being attracted
here, including restaurants, one
complete with a Michelin star
chef - small wonder with the
delicious local produce!
Glorious food and wine
are naturally a feature of this
lifestyle. With the coast nearby,
fish is plentiful, including
oysters and other delicacies.
Stunning architecture