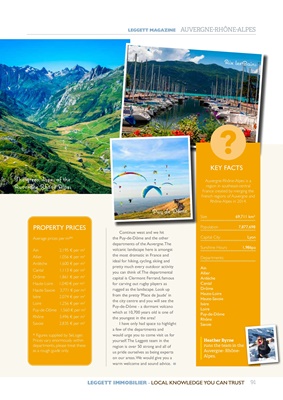 LEGGETT MAGAZINE AUVERGNE-RHÔNE-ALPES
Continue west and we hit
the Puy-de-Dôme and the other
departments of the Auvergne. The
volcanic landscape here is amongst
the most dramatic in France and
ideal for hiking, cycling, skiing and
pretty much every outdoor activity
you can think of. The departmental
capital is Clermont Ferrand, famous
for carving out rugby players as
rugged as the landscape. Look up
from the pretty 'Place de Jaude' in
the city centre and you will see the
Puy-de-Dôme - a dormant volcano
which at 10,700 years old is one of
the youngest in the area!
I have only had space to highlight
a few of the departments and
would urge you to come visit us for
yourself. The Leggett team in the
region is over 50 strong and all of
us pride ourselves as being experts
on our areas. We would give you a
warm welcome and sound advice.
91
LEGGETT IMMOBILIER - LOCAL KNOWLEDGE YOU CAN TRUST
Annecy
Average prices per m²*
Ain 2,195 € per m²
Allier 1,056 € per m²
Ardèche 1,600 € per m²
Cantal 1,113 € per m²
Drôme 1,861 € per m²
Haute-Loire 1,040 € per m²
Haute-Savoie 3,771 € per m²
Isère 2,074 € per m²
Loire 1,256 € per m²
Puy-de-Dôme 1,560 € per m²
Rhône 3,496 € per m²
Savoie 2,835 € per m²
* Figures supplied by SeLoger.
Prices vary enormously within
departments, please treat these
as a rough guide only.
PROPERTY PRICES
KEY FACTS
Auvergne-Rhône-Alpes is a
region in southeast-central
France created by merging the
French regions of Auvergne and
Rhône-Alpes in 2014.
Size 69,711 km²
Population 7,877,698
Capital City Lyon
Sunshine Hours 1,986pa
D e p a r t m e n t s :
Ain
Allier
Ardèche
Cantal
Drôme
Haute-Loire
Haute-Savoie
Isère
Loire
Puy-de-Dôme
Rhône
Savoie
Heather Byrne
runs the team in the
Auvergne- RhÔneAlpes.?
The green slopes of the
Auvergne Rhône Alpes
Aix les Bains
Puy de Dôme