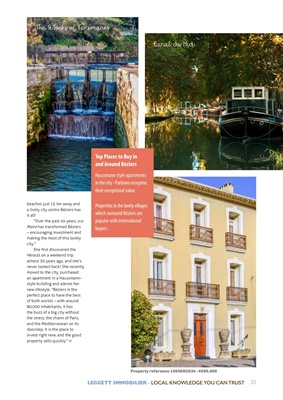 LEGGETT IMMOBILIER - LOCAL KNOWLEDGE YOU CAN TRUST 33
beaches just 15 km away and
a lively city centre Béziers has
it all!
"Over the past six years, our
Maire has transformed Béziers
- encouraging investment and
making the most of this lovely
city."
She first discovered the
Hérault on a weekend trip
almost 30 years ago, and she's
never looked back! She recently
moved to the city, purchased
an apartment in a Haussmannstyle building and adores
her
new lifestyle. "Béziers is the
perfect place to have the best
of both worlds - with around
80,000 inhabitants, it has
the buzz of a big city without
the stress, the charm of Paris,
and the Mediterranean on its
doorstep. It is the place to
invest right now, and the good
property sells quickly."
Property reference 105568CG34 : €695,000
Canal-du-Midi
The 9 locks of Fonseranes
Top Places to Buy in
and Around Béziers
Haussmann style apartments
in the city - Parisians recognise
their exceptional value.
Properties in the lovely villages
which surround Béziers are
popular with international
buyers.