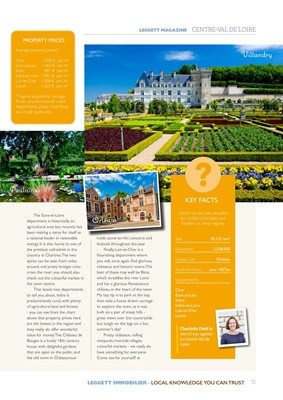 71
LEGGETT IMMOBILIER - LOCAL KNOWLEDGE YOU CAN TRUST
KEY FACTS
Centre-Val de Loire straddles
the middle Loire Valley and
borders six other regions.
Size 39,151 km²
Population 2,538,000
Capital City Orléans
Sunshine Hours over 1827pa
Depar tments:
Cher
Eure-et-Loir
Indre
Indre-et-Loire
Loir-et-Cher
Loiret
Charlotte Field is
one of our agents
in Centre-Val de
Loire?
The Eure-et-Loire
department is historically an
agricultural area but recently has
been making a name for itself as
a national leader in renewable
energy. It is also home to one of
the prettiest cathedrals in the
country in Chartres. The two
spires can be seen from miles
around, and pretty bridges crisscross
the river; you should also
check out the colourful market in
the town centre.
That leaves two departments
to tell you about. Indre is
predominantly rural, with plenty
of agricultural land and forests
- you can see from the chart
above that property prices here
are the lowest in the region and
they really do offer wonderful
value for money. The Château de
Bouges is a lovely 18th century
house with delightful gardens
that are open to the public, and
the old town in Châteauroux
holds some terrific concerts and
festivals throughout the year.
Finally, Loir-et-Cher is a
flourishing department where
you will, once again, find glorious
châteaux and historic towns. The
best of these may well be Blois,
which straddles the river Loire
and has a glorious Renaissance
château in the heart of the town.
My top tip is to park at the top,
then take a horse drawn carriage
to explore the town, as it was
built on a pair of steep hills -
great views over the countryside
but tough on the legs on a hot
summer's day!
Pretty châteaux, rolling
vineyards, riverside villages,
colourful markets - we really do
have something for everyone.
Come see for yourself!
Average property prices*
Cher 1,068 € per m²
Eure-et-Loir 1,668 € per m²
Indre 881 € per m²
Indre-et-Loire 1,901 € per m²
Loir-et-Cher 1,308 € per m²
Loiret 1,520 € per m²
* Figures supplied by SeLoger.
Prices vary enormously within
departments, please treat these
as a rough guide only.
PROPERTY PRICES
LEGGETT MAGAZINE CENTRE-VAL DE LOIRE
Villandry
Orléans
Poulaines