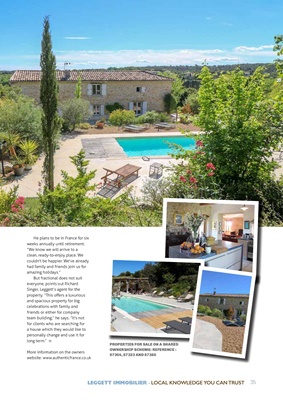 He plans to be in France for six
weeks annually until retirement.
"We know we will arrive to a
clean, ready-to-enjoy place. We
couldn't be happier. We've already
had family and friends join us for
amazing holidays."
But fractional does not suit
everyone, points out Richard
Singer, Leggett's agent for the
property. "This offers a luxurious
and spacious property for big
celebrations with family and
friends or either for company
team building," he says. "It's not
for clients who are searching for
a house which they would like to
personally  change and use it for
long term."
More information  on the owners
website: www.authenticfrance.co.uk
LEGGETT IMMOBILIER - LOCAL KNOWLEDGE YOU CAN TRUST 35
PROPERTIES FOR SALE ON A SHARED
OWNERSHIP SCHEME: REFERENCE :
97304, 87323 AND 87386