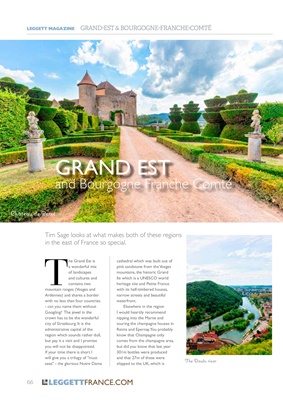 T
he Grand Est is
a wonderful mix
of landscapes
and cultures and
contains two
mountain ranges (Vosges and
Ardennes) and shares a border
with no less than four countries
- can you name them without
Googling? The jewel in the
crown has to be the wonderful
city of Strasbourg. It is the
administrative capital of the
region which sounds rather dull,
but pay it a visit and I promise
you will not be disappointed.
If your time there is short I
will give you a trilogy of "must
sees" - the glorious Notre Dame
Tim Sage looks at what makes both of these regions
in the east of France so special.
cathedral which was built out of
pink sandstone from the Vosges
mountains, the historic Grand
Ile which is a UNESCO world
heritage site and Petite France
with its half-timbered houses,
narrow streets and beautiful
waterfront.
Elsewhere in the region
I would heartily recommend
nipping into the Marne and
touring the champagne houses in
Reims and Epernay. You probably
know that Champagne only
comes from the champagne area,
but did you know that last year
301m bottles were produced
and that 27m of these were
shipped to the UK, which is
66
GRAND EST
and Bourgogne Franche Comté
LEGGETTFRANCE.COM
Château de Berzé
LEGGETT MAGAZINE GRAND-EST & BOURGOGNE-FRANCHE-COMTÉ
The Doubs river