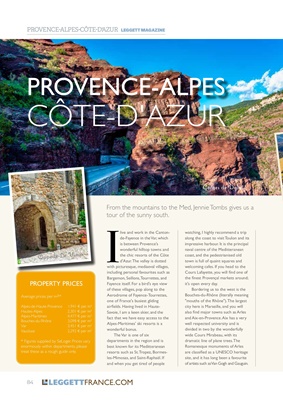 PROVENCE-ALPES-CÔTE-D'AZUR LEGGETT MAGAZINE
84
I
live and work in the Cantonde-Fayence
in the Var, which
is between Provence's
wonderful hilltop towns and
the chic resorts of the Côte
d'Azur. The valley is dotted
with picturesque, mediaeval villages,
including personal favourites such as
Bargemon, Seillons, Tourrettes, and
Fayence itself. For a bird's eye view
of these villages, pop along to the
Aerodrome of Fayence-Tourrettes,
one of France's busiest gliding
airfields. Having lived in HauteSavoie,
I am a keen skier, and the
fact that we have easy access to the
Alpes-Maritimes' ski resorts is a
wonderful bonus.
The Var is one of six
departments in the region and is
best known for its Meditteranean
resorts such as St. Tropez, Bormesles-Mimosas,
and Saint-Raphaël. If
and when you get tired of people
watching, I highly recommend a trip
along the coast to visit Toulon and its
impressive harbour. It is the principal
naval centre of the Meditteranean
coast, and the pedestrianised old
town is full of quaint squares and
welcoming cafes. If you head to the
Cours Lafayette, you will find one of
the finest Provençal markets around;
it's open every day.
Bordering us to the west is the
Bouches-du-Rhône (literally meaning
"mouths of the Rhône"). The largest
city here is Marseille, and you will
also find major towns such as Arles
and Aix-en-Provence. Aix has a very
well respected university and is
divided in two by the wonderfully
wide Cours Mirabeau, with its
dramatic line of plane trees. The
Romanesque monuments of Arles
are classified as a UNESCO heritage
site, and it has long been a favourite
of artists such as Van Gogh and Gauguin.
From the mountains to the Med, Jennie Tombs gives us a
tour of the sunny south.
PROVENCE-ALPES
CÔTE-D'AZUR
LEGGETTFRANCE.COM
Average prices per m²*
Alpes-de-Haute-Provence 1,941 € per m²
Hautes-Alpes 2,301 € per m²
Alpes-Maritimes 4,477 € per m²
Bouches-du-Rhône 3,098 € per m²
Var 3,451 € per m²
Vaucluse 2,292 € per m²
* Figures supplied by SeLoger. Prices vary
enormously within departments, please
treat these as a rough guide only.
PROPERTY PRICES
Gorges de Daluis
Oppede-Le Vieux