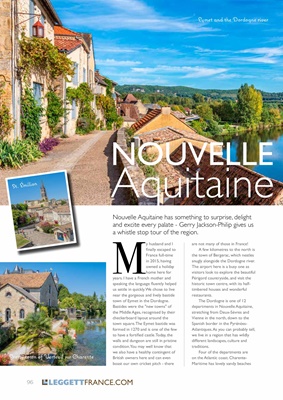 NOUVELLE
Aquitaine
M
y husband and I
finally escaped to
France full-time
in 2015, having
owned a holiday
home here for
years. I have a French mother and
speaking the language fluently helped
us settle in quickly. We chose to live
near the gorgeous and lively bastide
town of Eymet in the Dordogne.
Bastides were the "new towns" of
the Middle Ages, recognised by their
checkerboard layout around the
town square. The Eymet bastide was
formed in 1270 and is one of the few
to have a fortified castle. Today, the
walls and dungeon are still in pristine
condition. You may well know that
we also have a healthy contingent of
British owners here and can even
boast our own cricket pitch - there
Nouvelle Aquitaine has something to surprise, delight
and excite every palate - Gerry Jackson-Philip gives us
a whistle stop tour of the region.
are not many of those in France!
A few kilometres to the north is
the town of Bergerac, which nestles
snugly alongside the Dordogne river.
The airport here is a busy one as
visitors look to explore the beautiful
Périgord countryside, and visit the
historic town centre, with its half-
timbered houses and wonderful
restaurants.
The Dordogne is one of 12
departments in Nouvelle Aquitaine,
stretching from Deux-Sèvres and
Vienne in the north, down to the
Spanish border in the PyrénéesAtlantiques.
As you can probably tell,
we live in a region that has wildly
different landscapes, culture and
traditions.
Four of the departments are
on the Atlantic coast. Charente-
Maritime has lovely sandy beaches
96 LEGGETTFRANCE.COM
Eymet and the Dordogne river
Pretty town of Verteuil sur Charente
St. Émilion