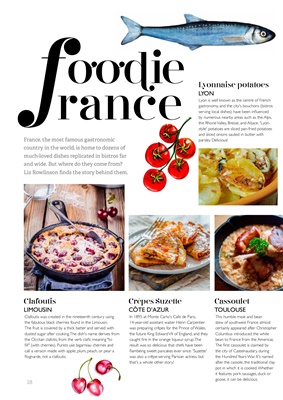 18 ơơɖieƒranceFrance, the most famous gastronomic
country in the world, is home to dozens of
much-loved dishes replicated in bistros far
and wide. But where do they come from?
Liz Rowlinson finds the story behind them.Crêpes Suzette
CÔTE D'AZUR
In 1895 at Monte Carlo's Cafe de Paris,
14-year-old assistant waiter Henri Carpentier
was preparing crêpes for the Prince of Wales,
the future King Edward VII of England, and they
caught fire in the orange liqueur syrup. The
result was so delicious that chefs have been
flambéing sweet pancakes ever since. 'Suzette'
was also a crêpe-serving Parisian actress, but
that's a whole other story!
Cassoulet
TOULOUSE
This humble meat and bean
stew of southwest France almost
certainly appeared after Christopher
Columbus introduced the white
bean to France from the Americas.
The first cassoulet is claimed by
the city of Castelnaudary, during
the Hundred Years War. It's named
after the cassole, the traditional clay
pot in which it is cooked. Whether
it features pork sausages, duck or
goose, it can be delicious.
Lyonnaise potatoes
LYON
Lyon is well known as the centre of French
gastronomy, and the city's bouchons (bistros
serving local dishes) have been influenced
by numerous nearby areas such as the Alps,
the Rhone Valley, Bresse, and Alsace. 'Lyonstyle' potatoes are sliced pan-fried
potatoes
and sliced onions sauted in butter with
parsley. Delicious!
Clafoutis
LIMOUSIN
Clafoutis was created in the nineteenth century using
the fabulous black cherries found in the Limousin.
The fruit is covered by a thick batter and served with
dusted sugar after cooking. The dish's name derives from
the Occitan clafoti s, from the verb clafir, meaning "to
fill" (with cherries). Purists use bigarreau cherries and
call a version made with apple, plum, peach, or pear a
flognarde, not a clafoutis.