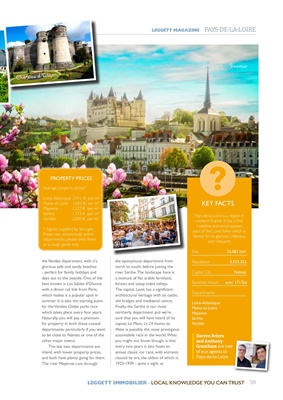 59
LEGGETT IMMOBILIER - LOCAL KNOWLEDGE YOU CAN TRUST
the Vendée department, with it's
glorious safe and sandy beaches
- perfect for family holidays and
days out to the seaside. One of the
best known is Les Sables d'Olonne
with a direct rail link from Paris,
which makes it a popular spot in
summer. It is also the starting point
for the Vendée Globe yacht race
which takes place every four years.
Naturally, you will pay a premium
for property in both these coastal
departments, particularly if you want
to be close to Nantes or one of the
other major towns.
The last two departments are
inland, with lower property prices,
and both have plenty going for them.
The river Mayenne cuts through
the eponymous department from
north to south, before joining the
river Sarthe. The landscape here is
a mixture of flat arable farmland,
forests and steep sided valleys.
The capital, Laval, has a significant
architectural heritage with its castle,
old bridges and mediaeval centre.
Finally, the Sarthe is our most
northerly department and we're
sure that you will have heard of its
capital, Le Mans. Le 24 heures du
Mans is possibly the most prestigious
automobile race in the world. What
you might not know though, is that
every two years it also hosts an
annual classic car race, with entrants
classed by era, the oldest of which is
1923-1939 - quite a sight.
Average property prices*
Loire-Atlantique 2,911 € per m²
Maine-et-Loire 1,652 € per m²
Mayenne 1,222 € per m²
Sarthe 1,373 € per m²
Vendée 2,050 € per m²
* Figures supplied by SeLoger.
Prices vary enormously within
departments, please treat these
as a rough guide only.
PROPERTY PRICES
KEY FACTS
Pays-de-la-Loire is a region in
western France. It has a fine
coastline and encompasses
part of the Loire Valley which is
famed for its glorious châteaux
and vineyards.
Size 32,082 km²
Population 3,553,352
Capital City Nantes
Sunshine Hours over 1717pa
Depar tments:
Loire-Atlantique
Maine-et-Loire
Mayenne
Sarthe
Vendée
Darren Briers
and Anthony
Grantham are two
of our agents in
Pays-de-la-Loire
?Saumur
LEGGETT MAGAZINE PAYS-DE-LA-LOIRE
Nantes
Château d Angers