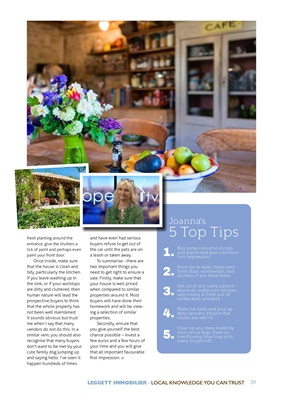 39
LEGGETT IMMOBILIER - LOCAL KNOWLEDGE YOU CAN TRUST
fresh planting around the
entrance, give the shutters a
lick of paint and perhaps even
paint your front door.
Once inside, make sure
that the house is clean and
tidy, particularly the kitchen.
If you leave washing up in
the sink, or if your worktops
are dirty and cluttered, then
human nature will lead the
prospective buyers to think
that the whole property has
not been well maintained.
It sounds obvious but trust
me when I say that many
vendors do not do this. In a
similar vein, you should also
recognise that many buyers
don't want to be met by your
cute family dog jumping up
and saying hello. I've seen it
happen hundreds of times
and have even had serious
buyers refuse to get out of
the car until the pets are on
a leash or taken away.
To summarise - there are
two important things you
need to get right to ensure a
sale. Firstly, make sure that
your house is well priced
when compared to similar
properties around it. Most
buyers will have done their
homework and will be viewing a selection of
similar
properties.
Secondly, ensure that
you give yourself the best
chance possible - invest a
few euros and a few hours of
your time and you will give
that all important favourable
first impression.
Buy some colourful shrubs
and plants and give a brilliant
first impression.
Paint (or at least clean) your
front door, windowsills, and
shutters if you have them.
Get rid of any nasty odours -
above all, make your kitchen
welcoming. A fresh pot of
coffee does wonders.
Make the beds and pick up
dirty laundry. Ensure that
rooms are well lit.
Clear up any mess made by
your cats & dogs. Even an
overflowing litter tray puts
many buyers off.
Joanna's
5 Top Tips
1.
2.
3.
4.
5.