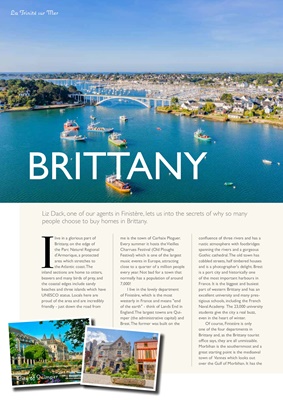 I
live in a glorious part of
Brittany, on the edge of
the Parc Naturel Regional
d'Armorique, a protected
area which stretches to
the Atlantic coast. The
inland sections are home to otters,
beavers and many birds of prey, and
the coastal edges include sandy
beaches and three islands which have
UNESCO status. Locals here are
proud of the area and are incredibly
friendly - just down the road from
Liz Dack, one of our agents in Finistère, lets us into the secrets of why so many
people choose to buy homes in Brittany.
me is the town of Carhaix Ploguer.
Every summer it hosts the Vieilles
Charrues Festival (Old Ploughs
Festival) which is one of the largest
music events in Europe, attracting
close to a quarter of a million people
every year. Not bad for a town that
normally has a population of around
7,000!
I live in the lovely department
of Finistère, which is the most
westerly in France and means "end
of the earth" - think of Lands End in
England. The largest towns are Quimper (the administrative
capital) and
Brest. The former was built on the
confluence of three rivers and has a
rustic atmosphere with footbridges
spanning the rivers and a gorgeous
Gothic cathedral. The old town has
cobbled streets, half timbered houses
and is a photographer's delight. Brest
is a port city and historically one
of the most important harbours in
France. It is the biggest and busiest
part of western Brittany and has an
excellent university and many prestigious schools,
including the French
Naval Academy. The 23,000 university
students give the city a real buzz,
even in the heart of winter.
Of course, Finistère is only
one of the four departments in
Brittany and, as the Brittany tourist
office says, they are all unmissable.
Morbihan is the southernmost and a
great starting point is the mediaeval
town of Vannes which looks out
over the Gulf of Morbihan. It has the
46
BRITTANY
La Trinité sur Mer
City of Quimper