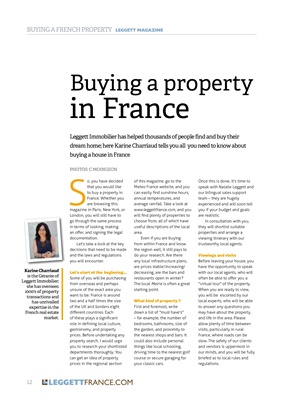 12
Leggett Immobilier has helped thousands of people find and buy their
dream home; here Karine Charriaud tells you all you need to know about
buying a house in France of this magazine, go to the
Meteo France website, and you
can easily find sunshine hours,
annual temperatures, and
average rainfall. Take a look at
www.leggettfrance.com, and you
will find plenty of properties to
choose from, all of which have
useful descriptions of the local
area.
Even if you are buying
from within France and know
the region well, it still pays to
do your research. Are there
any local infrastructure plans,
are prices stable/increasing/
decreasing, are the bars and
restaurants open in winter?
The local Mairie is often a great
starting point.
What kind of property ?
First and foremost, write
down a list of "must have's"
- for example, the number of
bedrooms, bathrooms, size of
the garden, and proximity to
the nearest shops and bars. It
could also include personal
things like local schooling,
driving time to the nearest golf
course or secure garaging for
your classic cars.
Once this is done, it's time to
speak with Natalie Leggett and
our bilingual sales support
team - they are hugely
experienced and will soon tell
you if your budget and goals
are realistic.
In consultation with you,
they will shortlist suitable
properties and arrange a
viewing itinerary with our
trustworthy local agents.
Viewings and visits
Before leaving your house, you
have the opportunity to speak
with our local agents, who will
often be able to offer you a
"virtual tour" of the property.
When you are ready to view,
you will be escorted by our
local experts, who will be able
to answer any questions you
may have about the property,
and life in the area. Please
allow plenty of time between
visits, particularly in rural
France, where roads can be
slow. The safety of our clients
and vendors is uppermost in
our minds, and you will be fully
briefed as to local rules and
regulations.
S
o, you have decided
that you would like
to buy a property in
France. Whether you
are browsing this
magazine in Paris, New York, or
London, you will still have to
go through the same process
in terms of looking, making
an offer, and signing the legal
documentation.
Let's take a look at the key
decisions that need to be made
and the laws and regulations
you will encounter.
Let's start at the beginning...
Some of you will be purchasing
from overseas and perhaps
unsure of the exact area you
want to be. France is around
two and a half times the size
of the UK and borders eight
different countries. Each
of these plays a significant
role in defining local culture,
gastronomy, and property
prices. Before undertaking any
property search, I would urge
you to research your shortlisted
departments thoroughly. You
can get an idea of property
prices in the regional section
Buying a property
in France
BUYING A FRENCH PROPERTY LEGGETT MAGAZINE
PHOTOS: C MOINGEON
Karine Charriaud
is the Gérante of
Leggett Immobilier;
she has overseen
1000's of property
transactions and
has unrivalled
expertise in the
French real estate
market.
LEGGETTFRANCE.COM
12