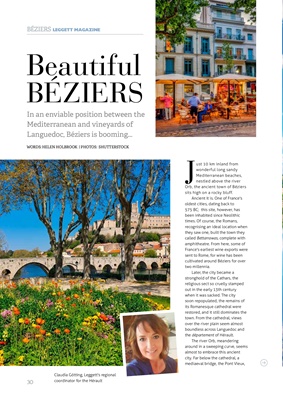 3030
BÉZIERS LEGGETT MAGAZINE
Just 10 km inland from
wonderful long sandy
Mediterranean beaches,
nestled above the river
Orb, the ancient town of Béziers
sits high on a rocky bluff.
Ancient it is. One of France's
oldest cities, dating back to
575 BC; this site, however, has
been inhabited since Neolithic
times. Of course, the Romans,
recognising an ideal location when
they saw one, built the town they
called Bettarrawas, complete with
amphitheatre. From here, some of
France's earliest wine exports were
sent to Rome, for wine has been
cultivated around Béziers for over
two millennia.
Later, the city became a
stronghold of the Cathars, the
religious sect so cruelly stamped
out in the early 13th century
when it was sacked. The city
soon repopulated, the remains of
its Romanesque cathedral were
restored, and it still dominates the
town. From the cathedral, views
over the river plain seem almost
boundless across Languedoc and
the département of Hérault.
The river Orb, meandering
around in a sweeping curve, seems
almost to embrace this ancient
city. Far below the cathedral, a
mediaeval bridge, the Pont Vieux,
In an enviable position between the
Mediterranean and vineyards of
Languedoc, Béziers is booming...
Beautiful
BÉZIERS
WORDS: HELEN HOLBROOK | PHOTOS: SHUTTERSTOCK
Claudia Götting, Leggett's regional
coordinator for the Hérault