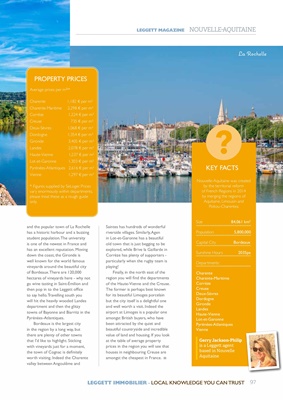 LEGGETT MAGAZINE NOUVELLE-AQUITAINE
and the popular town of La Rochelle
has a historic harbour and a buzzing
student population. The university
is one of the newest in France and
has an excellent reputation. Moving
down the coast, the Gironde is
well known for the world famous
vineyards around the beautiful city
of Bordeaux. There are 120,000
hectares of vineyards here - why not
go wine tasting in Saint-Émilion and
then pop in to the Leggett office
to say hello. Travelling south you
will hit the heavily wooded Landes
department and then the glitzy
towns of Bayonne and Biarritz in the
Pyrénées-Atlantiques.
Bordeaux is the largest city
in the region by a long way, but
there are plenty of other towns
that I'd like to highlight. Sticking
with vineyards just for a moment,
the town of Cognac is definitely
worth visiting. Indeed the Charente
valley between Angoulême and
Saintes has hundreds of wonderful
riverside villages. Similarly, Agen
in Lot-et-Garonne has a beautiful
old town that is just begging to be
explored, while Brive la Gaillarde in
Corrèze has plenty of supporters -
particularly when the rugby team is
playing!
Finally, in the north east of the
region you will find the departments
of the Haute-Vienne and the Creuse.
The former is perhaps best known
for its beautiful Limoges porcelain
but the city itself is a delightful one
and well worth a visit. Indeed the
airport at Limoges is a popular one
amongst British buyers, who have
been attracted by the quiet and
beautiful countryside and incredible
value of land and housing. If you look
at the table of average property
prices in the region you will see that
houses in neighbouring Creuse are
amongst the cheapest in France.
KEY FACTS
Nouvelle-Aquitaine was created
by the territorial reform
of French Regions in 2014
by merging the regions: of
Aquitaine, Limousin and
Poitou-Charentes.
Size 84,061 km²
Population 5,800,000
Capital City Bordeaux
Sunshine Hours 2035pa
Departments:
Charente
Charente-Maritime
Corrèze
Creuse
Deux-Sèvres
Dordogne
Gironde
Landes
Haute-Vienne
Lot-et-Garonne
Pyrénées-Atlantiques
Vienne
La Rochelle
Average prices per m²*
Charente 1,182 € per m²
Charente-Maritime 2,298 € per m²
Corrèze 1,224 € per m²
Creuse 735 € per m²
Deux-Sèvres 1,068 € per m²
Dordogne 1,354 € per m²
Gironde 3,405 € per m²
Landes 2,078 € per m²
Haute-Vienne 1,237 € per m²
Lot-et-Garonne 1,303 € per m²
Pyrénées-Atlantiques 2,616 € per m²
Vienne 1,297 € per m²
* Figures supplied by SeLoger. Prices
vary enormously within departments,
please treat these as a rough guide
only.
PROPERTY PRICES
97
LEGGETT IMMOBILIER - LOCAL KNOWLEDGE YOU CAN TRUST
Gerry Jackson-Philip
is a Leggett agent
based in Nouvelle
Aquitaine
?