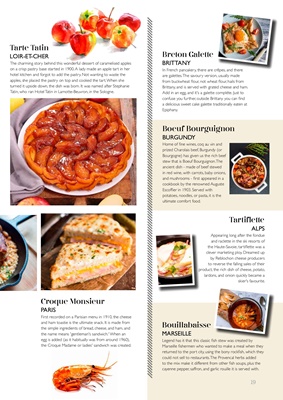 Croque Monsieur
PARIS
First recorded on a Parisian menu in 1910, the cheese
and ham toastie is the ultimate snack. It is made from
the simple ingredients of bread, cheese, and ham, and
the name means 'gentleman's sandwich.' When an
egg is added (as it habitually was from around 1960),
the Croque Madame or ladies' sandwich was created.
Tarte Tatin
LOIR-ET-CHER
The charming story behind this wonderful dessert of caramelised apples
on a crisp pastry base started in 1900. A lady made an apple tart in her
hotel kitchen and forgot to add the pastry. Not wanting to waste the
apples, she placed the pastry on top and cooked the tart. When she
turned it upside down, the dish was born. It was named after Stephanie
Tatin, who ran Hotel Tatin in Lamotte-Beuvron, in the Sologne.
Bouillabaisse
MARSEILLE
Legend has it that this classic fish stew was created by
Marseille fishermen who wanted to make a meal when they
returned to the port city, using the bony rockfish, which they
could not sell to restaurants. The Provencal herbs added
to the mix make it different from other fish soups, plus the
cayenne pepper, saffron, and garlic rouille it is served with.
Breton Galette
BRITTANY
In French pancakery, there are crêpes, and there
are galettes. The savoury version, usually made
from buckwheat flour, not wheat flour, hails from
Brittany, and is served with grated cheese and ham.
Add in an egg, and it's a galette compléte. Just to
confuse you further, outside Brittany you can find
a delicious sweet cake galette traditionally eaten at
Epiphany.
Boeuf Bourguignon
BURGUNDY
Home of fine wines, coq au vin and
prized Charolais beef, Burgundy (or
Bourgogne) has given us the rich beef
stew that is Boeuf Bourguignon. The
ancient dish - made of beef stewed
in red wine, with carrots, baby onions,
and mushrooms - first appeared in a
cookbook by the renowned Auguste
Escoffier in 1903. Served with
potatoes, noodles, or pasta, it is the
ultimate comfort food.
Tartiflette
ALPS
Appearing long after the fondue
and raclette in the ski resorts of
the Haute-Savoie, tartiflette was a
clever marketing ploy. Dreamed up
by Reblochon cheese producers
to reverse the falling sales of their
product, the rich dish of cheese, potato,
lardons, and onion quickly became a
skier's favourite.
19