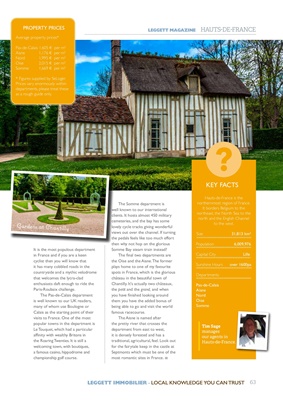 It is the most populous department
in France and if you are a keen
cyclist then you will know that
it has many cobbled roads in the
countryside and a mythic velodrome
that welcomes the lycra-clad
enthusiasts daft enough to ride the
Paris-Roubaix challenge.
The Pas-de-Calais department
is well known to our UK readers,
many of whom use Boulogne or
Calais as the starting point of their
visits to France. One of the most
popular towns in the department is
Le Touquet, which had a particular
affinity with wealthy Britons in
the Roaring Twenties. It is still a
welcoming town, with boutiques,
a famous casino, hippodrome and
championship golf course.
Gardens at Chantilly
KEY FACTS
Hauts-de-France is the
northernmost region of France.
It borders Belgium to the
northeast, the North Sea to the
north and the English Channel
to the west.
Size 31,813 km²
Population 6,009,976
Capital City Lille
Sunshine Hours over 1600pa
D e p a r t m e n t s :
Pas-de-Calais
Aisne
Nord
Oise
Somme
Tim Sage
manages
our agents in
Hauts-de-France.
? 63
LEGGETT IMMOBILIER - LOCAL KNOWLEDGE YOU CAN TRUST
LEGGETT MAGAZINE HAUTS-DE-FRANCE
Average property prices*
Pas-de-Calais 1,605 € per m²
Aisne 1,176 € per m²
Nord 1,995 € per m²
Oise 2,015 € per m²
Somme 1,669 € per m²
* Figures supplied by SeLoger.
Prices vary enormously within
departments, please treat these
as a rough guide only.
PROPERTY PRICES
The Somme department is
well known to our international
clients. It hosts almost 450 military
cemeteries, and the bay has some
lovely cycle tracks giving wonderful
views out over the channel. If turning
the pedals feels like too much effort
then why not hop on the glorious
Somme Bay steam train instead?
The final two departments are
the Oise and the Aisne. The former
plays home to one of my favourite
spots in France, which is the glorious
château in the beautiful town of
Chantilly. It's actually two châteaux,
the petit and the grand, and when
you have finished looking around
them you have the added bonus of
being able to go and visit the world
famous racecourse.
The Aisne is named after
the pretty river that crosses the
department from east to west,
it is densely forested and has a
traditional, agricultural, feel. Look out
for the fairytale keep in the castle at
Septmonts which must be one of the
most romantic sites in France.