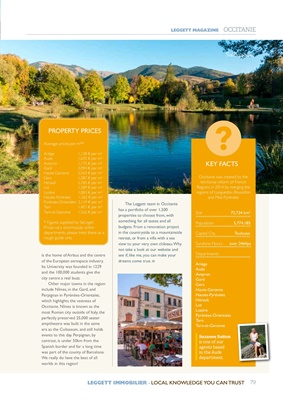 79
LEGGETT IMMOBILIER - LOCAL KNOWLEDGE YOU CAN TRUST
LEGGETT MAGAZINE OCCITANIE
is the home of Airbus and the centre
of the European aerospace industry.
Its University was founded in 1229
and the 100,000 students give the
city centre a real buzz.
Other major towns in the region
include Nîmes, in the Gard, and
Perpignan in Pyrénées-Orientales,
which highlights the vastness of
Occitanie. Nîmes is known as the
most Roman city outside of Italy, the
perfectly preserved 25,000 seater
ampitheatre was built in the same
era as the Colisseum, and still holds
events to this day. Perpignan, by
contrast, is under 50km from the
Spanish border and for a long time
was part of the county of Barcelona.
We really do have the best of all
worlds in this region!
KEY FACTS
Occitanie was created by the
territorial reform of French
Regions in 2014 by merging the
regions: of Languedoc-Roussillon
and Midi-Pyrénées
Size 72,724 km²
Population 5,774,185
Capital City Toulouse
Sunshine Hours over 2464pa
Depar tments:
Ariège
Aude
Aveyron
Gard
Gers
Haute-Garonne
Hautes-Pyrénées
Hérault
Lot
Lozère
Pyrénées-Orientales
Tarn
Tarn-et-Garonne
Suzanne Sutton
is one of our
agents based
in the Aude
department.
?
The Leggett team in Occitanie
has a portfolio of over 1,500
properties to choose from, with
something for all tastes and all
budgets. From a renovation project
in the countryside to a mountainside
retreat, or from a villa with a sea
view to your very own château. Why
not take a look at our website and
see if, like me, you can make your
dreams come true.
Average prices per m²*
Ariège 1,128 € per m²
Aude 1,635 € per m²
Aveyron 1,175 € per m²
Gard 2,094 € per m²
Haute-Garonne 2,563 € per m²
Gers 1,287 € per m²
Hérault 2,785 € per m²
Lot 1,389 € per m²
Lozère 1,083 € per m²
Hautes-Pyrénées 1,262 € per m²
Pyrénées-Orientales 2,119 € per m²
Tarn 1,401 € per m²
Tarn-et-Garonne 1,526 € per m²
* Figures supplied by SeLoger.
Prices vary enormously within
departments, please treat these as a
rough guide only.
PROPERTY PRICES
Saillagouse