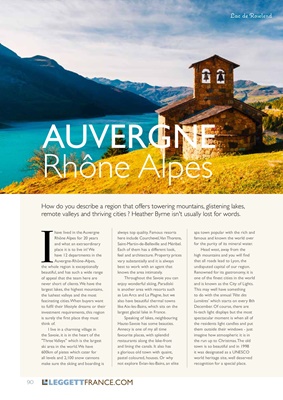 I
have lived in the Auvergne
Rhône Alpes for 20 years
and what an extraordinary
place it is to live in! We
have 12 departments in the
Auvergne-Rhône-Alpes,
the whole region is exceptionally
beautiful, and has such a wide range
of appeal that the team here are
never short of clients. We have the
largest lakes, the highest mountains,
the lushest valleys and the most
fascinating cities. When buyers want
to fulfil their lifestyle dreams or their
investment requirements, this region
is surely the first place they must
think of.
I live in a charming village in
the Savoie, it is in the heart of the
"Three Valleys" which is the largest
ski area in the world. We have
600km of pistes which cater for
all levels and 2,100 snow cannons
make sure the skiing and boarding is
always top quality. Famous resorts
here include Courchevel, Van Thorens,
Saint-Martin-de-Belleville and Méribel.
Each of them has a different look,
feel and architecture. Property prices
vary substantially and it is always
best to work with an agent that
knows the area intimately.
Throughout the Savoie you can
enjoy wonderful skiing, Paradiski
is another area with resorts such
as Les Arcs and La Plagne, but we
also have beautiful thermal towns
like Aix-les-Bains, which sits on the
largest glacial lake in France.
Speaking of lakes, neighbouring
Haute-Savoie has some beauties.
Annecy is one of my all time
favourite places, with splendid
restaurants along the lake-front
and lining the canals. It also has
a glorious old town with quaint,
pastel coloured, houses. Or why
not explore Evian-les-Bains, an elite
spa town popular with the rich and
famous and known the world over
for the purity of its mineral water.
Head west, away from the
high mountains and you will find
that all roads lead to Lyon, the
undisputed capital of our region.
Renowned for its gastronomy, it is
one of the finest cities in the world
and is known as the City of Lights.
This may well have something
to do with the annual 'Fête des
Lumières' which starts on every 8th
December. Of course, there are
hi-tech light displays but the most
spectacular moment is when all of
the residents light candles and put
them outside their windows - just
imagine how atmospheric it is in
the run up to Christmas. The old
town is so beautiful and in 1998
it was designated as a UNESCO
world heritage site, well deserved
recognition for a special place.
90 AUVERGNE
Rhône Alpes
How do you describe a region that offers towering mountains, glistening lakes,
remote valleys and thriving cities ? Heather Byrne isn't usually lost for words.
Lac de Roselend
LEGGETTFRANCE.COM