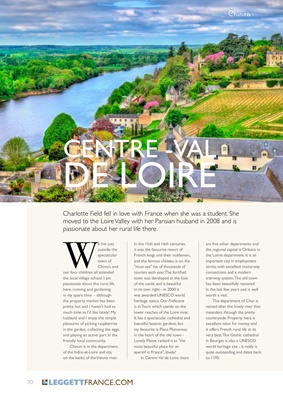 70
CENTRE -VAL
DE LOIRE
are five other departments and
the regional capital is Orléans in
the Loiret department. It is an
important city in employment
terms, with excellent motorway
connections and a modern
tramway system. The old town
has been beautifully restored
in the last few years and is well
worth a visit.
The department of Cher is
named after the lovely river that
meanders through the pretty
countryside. Property here is
excellent value for money and
it offers French rural life at its
very best. The Gothic cathedral
in Bourges is also a UNESCO
world heritage site - it really is
quite outstanding and dates back
to 1195.
W
e live just
outside the
spectacular
town of
Chinon, and
our four children all attended
the local village school. I am
passionate about the rural life
here, running and gardening
in my spare time - although
the property market has been
pretty hot and I haven't had as
much time as I'd like lately! My
husband and I enjoy the simple
pleasures of picking raspberries
in the garden, collecting the eggs,
and playing an active part in the
friendly local community.
Chinon is in the department
of the Indre-et-Loire and sits
on the banks of the Vienne river.
Charlotte Field fell in love with France when she was a student. She
moved to the Loire Valley with her Parisian husband in 2008 and is
passionate about her rural life there.
In the 15th and 16th centuries
it was the favourite resort of
French kings and their noblemen,
and the famous château is on the
"must see" list of thousands of
tourists each year. The fortified
town was developed at the foot
of the castle and is beautiful
in its own right - in 2000 it
was awarded UNESCO world
heritage status. Our Prefecture
is in Tours which stands on the
lower reaches of the Loire river.
It has a spectacular cathedral and
beautiful botanic gardens, but
my favourite is Place Plumereau
in the heart of the old town -
Lonely Planet ranked it as "the
most beautiful place for an
aperitif in France", lovely!
In Centre-Val de Loire there
LEGGETTFRANCE.COM
Chinon