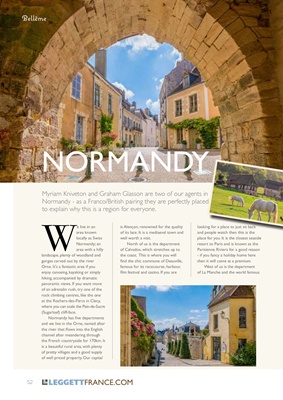 52 LEGGETTFRANCE.COM
NORMANDY
W
e live in an
area known
locally as Swiss
Normandy; an
area with a hilly
landscape, plenty of woodland and
gorges carved out by the river
Orne. It's a fantastic area if you
enjoy canoeing, kayaking or simply
hiking, accompanied by dramatic
panoramic views. If you want more
of an adrenalin rush, try one of the
rock climbing centres, like the one
at the Rochers-des-Parcs in Clecy,
where you can scale the Pain-de-Sucre
(Sugarloaf) cliff-face.
Normandy has five departments
and we live in the Orne, named after
the river that flows into the English
channel after meandering through
the French countryside for 170km. It
is a beautiful rural area, with plenty
of pretty villages and a good supply
of well priced property. Our capital
Myriam Kniveton and Graham Glasson are two of our agents in
Normandy - as a Franco/British pairing they are perfectly placed
to explain why this is a region for everyone.
is Alençon, renowned for the quality
of its lace. It is a mediaeval town and
well worth a visit.
North of us is the department
of Calvados, which stretches up to
the coast. This is where you will
find the chic commune of Deauville,
famous for its racecourse, harbour,
film festival and casino. If you are
looking for a place to just sit back
and people watch then this is the
place for you. It is the closest seaside
resort to Paris and is known as the
Parisienne Riviera for a good reason
- if you fancy a holiday home here
then it will come at a premium.
West of us is the department
of La Manche and the world famous
Bellême