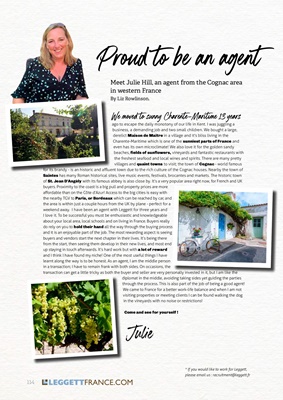 114
We moved to sunny Charente-Maritime 13 years
ago to escape the daily monotony of our life in Kent. I was juggling a
business, a demanding job and two small children. We bought a large,
derelict Maison de Maître in a village and it's bliss living in the
Charente-Maritime which is one of the sunniest parts of France and
even has its own microclimate! We also love it for the golden sandy
beaches, fields of sunflowers, vineyards and fantastic restaurants with
the freshest seafood and local wines and spirits. There are many pretty
villages and quaint towns to visit; the town of Cognac - world famous
for its brandy - is an historic and affluent town due to the rich culture of the Cognac houses. Nearby the town of
Saintes has many Roman historical sites, live music events, festivals, brocantes and markets. The historic town
of St. Jean D'Angèly with its famous abbey is also close by. It's a very popular area right now, for French and UK
buyers. Proximity  to the coast is a big pull and property prices are more
affordable than on the CÔte d'Azur! Access to the big cities is easy with
the nearby TGV to Paris, or Bordeaux which can be reached by car, and
the area is within just a couple hours from the UK by plane - perfect for a
weekend away. I have been an agent with Leggett for three years and
I love it. To be successful you must be enthusiastic and knowledgeable
about your local area, local schools and on living in France. Buyers really
do rely on you to hold their hand all the way through the buying process
and it is an enjoyable part of the job. The most rewarding aspect is seeing
buyers and vendors start the next chapter in their lives. It's being there
from the start, then seeing them develop in their new lives, and most end
up staying in touch afterwards. It's hard work but with a lot of reward
and I think I have found my niche! One of the most useful things I have
learnt along the way is to be honest. As an agent, I am the middle person
in a transaction; I have to remain frank with both sides. On occasions, the
transaction can get a little tricky as both the buyer and seller are very personally invested in it, but I am like the
diplomat in the middle, avoiding taking sides yet guiding the parties
through the process. This is also part of the job of being a good agent!
We came to France for a better work-life balance and when I am not
visiting properties or meeting clients I can be found walking the dog
in the vineyards with no noise or restrictions!
Come and see for yourself !
Julie
Proud to be an agent
* If you would like to work for Leggett,
please email us : recruitment@leggett.fr
LEGGETTFRANCE.COM
Meet Julie Hill, an agent from the Cognac area
in western France
By Liz Rowlinson.