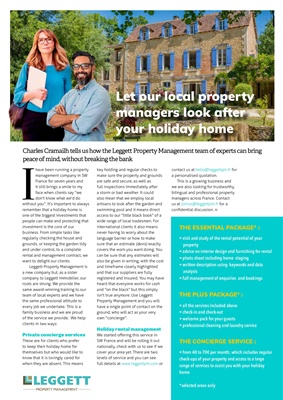 I
have been running a property
management  company in SW
France for seven years and
it still brings a smile to my
face when clients say "we
don't know what we'd do
without you". It's important to always
remember that a holiday home is
one of the biggest investments that
people can make and  protecting  that
investment is the core of our
business.  From simple tasks like
regularly checking the house and
grounds, or keeping the garden tidy
and under control, to a complete
rental and management contract, we
want to delight our clients.
Leggett Property Management  is
a new company but, as a sister
company to  Leggett Immobilier, our
roots are strong. We provide the
same award-winning training to our
team of local experts and we have
the same professional attitude to
every job we undertake. This is a
family business and we are proud
of the service we provide. We help
clients in two ways:
Private concierge services
These are for clients who prefer
to keep their holiday home for
themselves but who would like to
know that it is lovingly cared  for
when they are absent. This means
key holding and regular checks to
make sure the property and grounds
are safe and secure, as well as
full inspections immediately after
a storm or bad weather. It could
also mean that we employ local
artisans to look after the garden and
swimming pool and it means direct
access to our "little black book" of a
wide range of local tradesmen. For
international clients it also means
never having to worry about the
language barrier or how to make
sure that an estimate (devis) exactly
covers the work  you want doing. You
can be sure that any estimates will
also be given in writing, with the cost
and timeframe clearly highlighted
and that our suppliers are fully
registered and insured.  You may have
heard that everyone works for cash
and "on the black" but this simply
isn't true anymore. Use  Leggett
Property Management  and you will
have a single point of contact on the
ground, who will act as your very
own "concierge".
Holiday rental management
We started offering this service in
SW France and will be rolling it out
nationally, check with us to see if we
cover your area yet. There are two
levels of service and you can see
full details at hello@leggettpm.frisit www.leggettpm.com">www.leggettpm.com or
contact us at hello@leggettpm.fr for
a personalised quotation.
This is a growing business and
we are also looking for trustworthy,
bilinjoinus@leggettpm.fral property
managers across France. Contact
us at  joinus@leggettpm.fr  for a
confidential discussion.
Charles Cramailh tells us how the Leggett Property Management team of experts can bring
peace of mind, without breaking the bank
Let our local property
managers look after
your holiday home
THE ESSENTIAL PACKAGE* :
• visit and study of the rental potential of your
property
• advice on interior design and furnishing for rental
• photo shoot including home staging
• written description using keywords and data
analysis
• full management of enquiries and bookings
THE PLUS PACKAGE* :
• all the services included above
• check-in and check-out
• welcome pack for your guests
• professional cleaning and laundry service
THE CONCIERGE SERVICE :
• from 40 to 70€ per month; which includes regular
check-ups of your property and access to a large
range of services to assist you with your holiday
home
*selected areas only
PROPERTY MANAGEMENT
Trust our local experts with the management and rental of your French property�