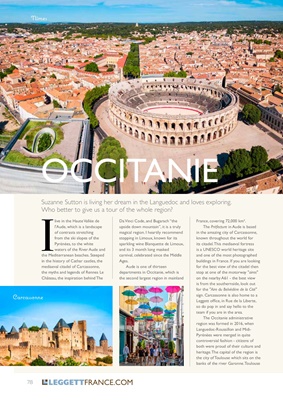 78 LEGGETTFRANCE.COM
OCCITANIE
I
live in the Haute Vallée de
l'Aude, which is a landscape
of contrasts stretching
from the ski slopes of the
Pyrénées, to the white
waters of the River Aude and
the Mediterranean beaches. Steeped
in the history of Cathar castles, the
mediaeval citadel of Carcassonne,
the myths and legends of Rennes Le
Château, the inspiration behind The
Suzanne Sutton is living her dream in the Languedoc and loves exploring.
Who better to give us a tour of the whole region?
Da Vinci Code, and Bugarach "the
upside down mountain", it is a truly
magical region. I heartily recommend
stopping in Limoux, known for its
sparkling wine Blanquette de Limoux,
and its 3 month long masked
carnival, celebrated since the Middle
Ages.
Aude is one of thirteen
departments in Occitanie, which is
the second largest region in mainland
France, covering 72,000 km².
The Préfecture in Aude is based
in the amazing city of Carcassonne,
known throughout the world for
its citadel. This mediaeval fortress
is a UNESCO world heritage site
and one of the most photographed
buildings in France. If you are looking
for the best view of the citadel then
stop at one of the motorway "aires"
on the nearby A61 - the best view
is from the southernside, look out
for the "Aire du Belvédère de la Cité"
sign. Carcassonne is also home to a
Leggett office, in Rue de la Liberte,
so do pop in and say hello to the
team if you are in the area.
The Occitanie administrative
region was formed in 2016, when
Languedoc-Roussillon and MidiPyrénées were
merged in quite
controversial fashion - citizens of
both were proud of their culture and
heritage. The capital of the region is
the city of Toulouse which sits on the
banks of the river Garonne. Toulouse
Nîmes
Carcassonne