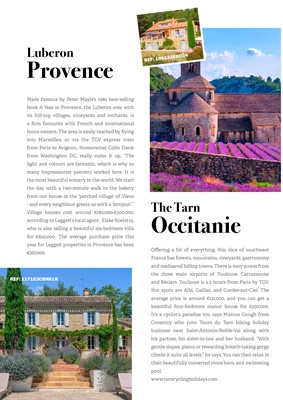 4242
Luberon
Provence
8.
7.
9.
Made famous by Peter Mayle's 1989 best-selling
book A Year in Provence, the Luberon area with
its hill-top villages, vineyards and orchards, is
a firm favourite with French and international
home owners. The area is easily reached by flying
into Marseilles, or via the TGV express train
from Paris to Avignon. Homeowner Colin Davie
from Washington DC, really sums it up. "The
light and colours are fantastic, which is why so
many Impressionist painters worked here. It is
the most beautiful scenery in the world. We start
the day with a two-minute walk to the bakery
from our house in the 'perched village' of Viens
- and every neighbour greets us with a 'bonjour'."
Village houses cost around €180,000-€300,000,
according to Leggett's local agent, Elske Koelstra,
who is also selling a beautiful six-bedroom villa
for €840,000. The average purchase price this
year for Leggett properties in Provence has been
€327,000.
The Tarn
Occitanie
Offering a bit of everything, this slice of southwest
France has forests, mountains, vineyards, gastronomy
and mediaeval hilltop towns. There is easy access from
the three main airports of Toulouse, Carcassonne
and Béziers. Toulouse is 4.5 hours from Paris by TGV.
Hot spots are Albi, Gaillac, and Cordes-sur-Ciel. The
average price is around €131,000, and you can get a
beautiful four-bedroom manor house for €250,000.
It's a cyclist's paradise too, says Marcus Gough from
Coventry who runs Tours du Tarn biking holiday
business near Saint-Antonin-Noble-Val along with
his partner, his sister-in-law and her husband. "With
gentle slopes, plains or rewarding breath-taking gorge
climbs it suits all levels," he says. You can then relax in
their beautifully converted stone barn, and swimming
pool.
REF: 104132EKO84
REF: 117183CSH81H