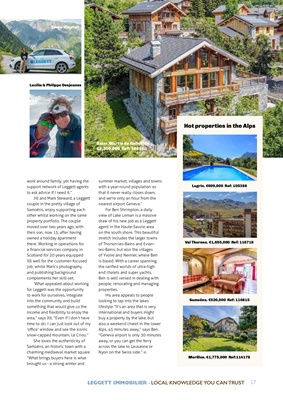 17
LEGGETT IMMOBILIER - LOCAL KNOWLEDGE YOU CAN TRUST
work around family, yet having the
support network of Leggett agents
to ask advice if I need it."
Jill and Mark Steward, a Leggett
couple in the pretty village of
Samoëns, enjoy supporting each
other whilst working on the same
property portfolio. The couple
moved over two years ago, with
their son, now 13, after having
owned a holiday apartment
there. Working in operations for
a financial services company in
Scotland for 20 years equipped
Jill well for the customer-focused
job; whilst Mark's photography
and publishing background
complements her skill-set.
'What appealed about working
for Leggett was the opportunity
to work for ourselves, integrate
into the community and build
something that would give us the
income and flexibility to enjoy the
area," says Jill. "Even if I don't have
time to ski, I can just look out of my
'office' window and see the iconic
snow-capped mountain, Le Criou."
She loves the authenticity of
Samoëns, an historic town with a
charming mediaeval market square.
"What brings buyers here is what
brought us - a strong winter and
Samoëns. €520,000 Ref: 116815
Lugrin. €699,000 Ref: 105388
Val Thorens. €1,655,000 Ref: 116719
Saint Martin de Belleville
€2,300,000 Ref: 108480
Lucilia & Philippe Desjeunes
summer market; villages and towns
with a year-round population so
that it never really closes down,
and we're only an hour from the
nearest airport Geneva."
For Ben Shrimpton, a daily
view of Lake Leman is a massive
draw of his new job as a Leggett
agent in the Haute-Savoie area
on the south shore. This beautiful
stretch includes the larger towns
of Thonon-les-Bains and Evianles-Bains, but also the villages
of Yvoire and Nernier, where Ben
is based. With a career spanning
the rarified worlds of ultra-high
end chalets and super yachts,
Ben is well versed in dealing with
people, renovating and managing
properties.
His area appeals to people
looking to tap into the lakes
lifestyle "It's an area that is very
international and buyers might
buy a property by the lake, but
also a weekend chalet in the lower
Alps, 45 minutes away," says Ben.
"Geneva airport is only 30 minutes
away, or you can get the ferry
across the lake to Lausanne or
Nyon on the Swiss side."
Morillon. €1,775,000 Ref:114178
Hot properties in the Alps
Emma Horsfall