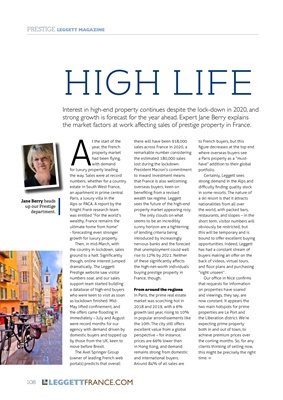 108108108 LEGGETTFRANCE.COM
PRESTIGE LEGGETT MAGAZINE
HIGH LIFE
A
t the start of the
year, the French
property market
had been flying,
with demand
for luxury property leading
the way. Sales were at record
numbers, whether for a country
estate in South West France,
an apartment in prime central
Paris, a luxury villa in the
Alps or PACA. A report by the
Knight Frank research team
was entitled "For the world's
wealthy, France remains the
ultimate home from home"
- forecasting even stronger
growth for luxury property.
Then, in mid-March, with
the country in lockdown, sales
ground to a halt. Significantly
though, online interest jumped
dramatically. The Leggett
Prestige website saw visitor
numbers soar, and our sales
support team started building
a database of high-end buyers
who were keen to visit as soon
as lockdown finished. MidMay lifted confinement,
and
the offers came flooding in
immediately - July and August
were record months for our
agency with demand driven by
domestic buyers and topped up
by those from the UK, keen to
move before Brexit.
The Axel Springer Group
(owner of leading French web
portals) predicts that overall
Interest in high-end property continues despite the lock-down in 2020, and
strong growth is forecast for the year ahead. Expert Jane Berry explains
the market factors at work affecting sales of prestige property in France.
there will have been 918,000
sales across France in 2020, a
remarkable number considering
the estimated 180,000 sales
lost during the lockdown.
President Macron's commitment
to inward investment means
that France is also welcoming
overseas buyers, keen on
benefiting from a revised
wealth tax regime. Leggett
sees the future of the high-end
property market appearing rosy.
The only clouds on what
seems to be an incredibly
sunny horizon are a tightening
of lending criteria being
introduced by increasingly
nervous banks and the forecast
that unemployment could well
rise to 12% by 2021. Neither
of these significantly affects
the high-net-worth individuals
buying prestige property in
France, though.
From around the regions
In Paris, the prime real estate
market was scorching hot in
2018 and 2019, with a 6%
growth last year, rising to 10%
in popular arrondissements like
the 10th. The city still offers
excellent value from a global
perspective - for instance,
prices are 66% lower than
in Hong Kong, and demand
remains strong from domestic
and international buyers.
Around 84% of all sales are
to French buyers, but this
figure decreases at the top end
where overseas buyers see
a Paris property as a "musthave"
addition to their global
portfolio.
Certainly, Leggett sees
strong demand in the Alps and
difficulty finding quality stock
in some resorts. The nature of
a ski resort is that it attracts
nationalities from all over
the world, with packed bars,
restaurants, and slopes - in the
short term, visitor numbers will
obviously be restricted, but
this will be temporary and is
bound to offer excellent buying
opportunities. Indeed, Leggett
has had a constant stream of
buyers making an offer on the
back of videos, virtual tours,
and floor plans and purchasing
"sight unseen".
Our office in Nice confirms
that requests for information
on properties have soared
and viewings, they say, are
now constant. It appears the
two main hotspots for prime
properties are Le Port and
the Liberation district. We're
expecting prime property
both in and out of town, to
achieve premium prices over
the coming months. So, for any
clients thinking of selling now,
this might be precisely the right
time.
Jane Berry heads
up our Prestige
department.