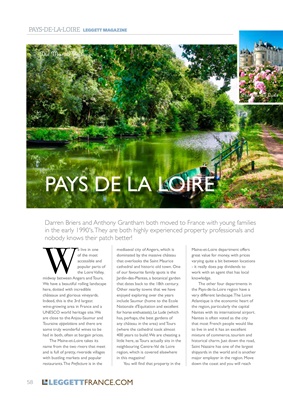 58 W
e live in one
of the most
accessible and
popular parts of
the Loire Valley,
midway between Angers and Tours.
We have a beautiful rolling landscape
here, dotted with incredible
châteaux and glorious vineyards.
Indeed, this is the 3rd largest
wine-growing area in France and a
UNESCO world heritage site. We
are close to the Anjou-Saumur and
Touraine appelations and there are
some truly wonderful wines to be
had in both, often at bargain prices.
The Maine-et-Loire takes its
name from the two rivers that meet
and is full of pretty, riverside villages
with bustling markets and popular
restaurants. The Prefecture is in the
Darren Briers and Anthony Grantham both moved to France with young families
in the early 1990's. They are both highly experienced property professionals and
nobody knows their patch better!
mediaeval city of Angers, which is
dominated by the massive château
that overlooks the Saint Maurice
cathedral and historic old town. One
of our favourite family spots is the
Jardin-des-Plantes, a botanical garden
that dates back to the 18th century.
Other nearby towns that we have
enjoyed exploring over the years
include Saumur (home to the Ecole
Nationale d'Equitation and excellent
for horse enthusiasts), Le Lude (which
has, perhaps, the best gardens of
any château in the area) and Tours
(where the cathedral took almost
400 years to build. We are cheating a
little here, as Tours actually sits in the
neighbouring Centre-Val de Loire
region, which is covered elsewhere
in this magazine!
You will find that property in the
PAYS DE LA LOIRE
Maine-et-Loire department offers
great value for money, with prices
varying quite a bit between locations
- it really does pay dividends to
work with an agent that has local
knowledge.
The other four departments in
the Pays-de-la-Loire region have a
very different landscape. The Loire
Atlantique is the economic heart of
the region, particularly the capital
Nantes with its international airport.
Nantes is often voted as the city
that most French people would like
to live in and it has an excellent
mixture of commerce, tourism and
historical charm. Just down the road,
Saint Nazaire has one of the largest
shipyards in the world and is another
major employer in the region. Move
down the coast and you will reach
PAYS-DE-LA-LOIRE LEGGETT MAGAZINE
The Marais Poitevin
Château du Lude
LEGGETTFRANCE.COM