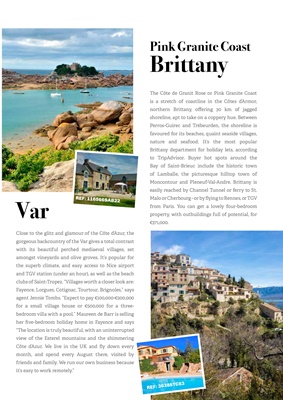 6.
Pink Granite Coast
Brittany
The Côte de Granit Rose or Pink Granite Coast
is a stretch of coastline in the Côtes d'Armor,
northern Brittany, offering 30 km of jagged
shoreline, apt to take on a coppery hue. Between
Perros-Guirec and Trébeurden, the shoreline is
favoured for its beaches, quaint seaside villages,
nature and seafood. It's the most popular
Brittany department for holiday lets, according
to TripAdvisor. Buyer hot spots around the
Bay of Saint-Brieuc include the historic town
of Lamballe, the picturesque hilltop town of
Moncontour and Pleneuf-Val-Andre. Brittany is
easily reached by Channel Tunnel or ferry to St.
Malo or Cherbourg - or by flying to Rennes, or TGV
from Paris. You can get a lovely four-bedroom
property, with outbuildings full of potential, for
€371,000.
Var
Close to the glitz and glamour of the Côte d'Azur, the
gorgeous backcountry of the Var gives a total contrast
with its beautiful perched mediaeval villages, set
amongst vineyards and olive groves. It's popular for
the superb climate, and easy access to Nice airport
and TGV station (under an hour), as well as the beach
clubs of Saint-Tropez. "Villages worth a closer look are:
Fayence, Lorgues, Cotignac, Tourtour, Brignoles," says
agent Jennie Tombs. "Expect to pay €100,000-€200,000
for a small village house or €500,000 for a threebedroom
villa with a pool." Maureen de Barr is selling
her five-bedroom holiday home in Fayence and says
"The location is truly beautiful, with an uninterrupted
view of the Esterel mountains and the shimmering
Côte d'Azur. We live in the UK and fly down every
month, and spend every August there, visited by
friends and family. We run our own business because
it's easy to work remotely."
REF: 36385TC83
REF: 116566SAB22