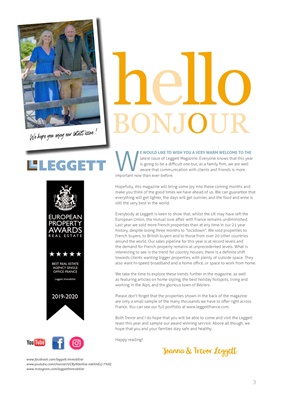 LEGGETTPRESTIGE
3
W
E WOULD LIKE TO WISH YOU A VERY WARM WELCOME TO THE
latest issue of Leggett Magazine. Everyone knows that this year
is going to be a difficult one but, as a family firm, we are well
aware that communication with clients and friends is more
important now than ever before.
Hopefully, this magazine will bring some joy into these coming months and
make you think of the good times we have ahead of us. We can guarantee that
everything will get lighter, the days will get sunnier, and the food and wine is
still the very best in the world.
Everybody at Leggett is keen to show that, whilst the UK may have left the
European Union, the mutual love affair with France remains undiminished.
Last year we sold more French properties than at any time in our 21 year
history, despite losing three months to "lockdown". We sold properties to
French buyers, to British buyers and to those from over 20 other countries
around the world. Our sales pipeline for this year is at record levels and
the demand for French property remains at unprecedented levels. What is
interesting to see is the trend for country houses; there is a definite shift
towards clients wanting bigger properties, with plenty of outside space. They
also want hi-speed broadband and a home office, or space to work from home.
We take the time to explore these trends further in the magazine, as well
as featuring articles on home styling, the best holiday hotspots, living and
working in the Alps, and the glorious town of Béziers.
Please don't forget that the properties shown in the back of the magazine
are only a small sample of the many thousands we have to offer right across
France. You can see our full portfolio at www.leggettfrance.com.
Both Trevor and I do hope that you will be able to come and visit the Leggett
team this year and sample our award winning service. Above all though, we
hope that you and your families stay safe and healthy.
Happy reading!
www.facebook.com/leggett.immobilier
www.youtube.com/channel/UCByN0et6ra-m6XmEcj-7YdQ
www.instagram.com/leggettimmobilier helloBONJOUR
We hope you enjoy our latest issue !
Joanna & Trevor Leggett