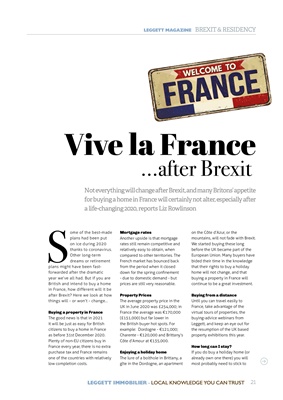 Some of the best-made
plans had been put
on ice during 2020
thanks to coronavirus.
Other long-term
dreams or retirement
plans might have been fastforwarded
after the dramatic
year we've all had. But if you are
British and intend to buy a home
in France, how different will it be
after Brexit? Here we look at how
things will - or won't - change…
Buying a property in France
The good news is that in 2021
it will be just as easy for British
citizens to buy a home in France
as before 31st December 2020.
Plenty of non-EU citizens buy in
France every year, there is no extra
purchase tax and France remains
one of the countries with relatively
low completion costs.
Mortgage rates
Another upside is that mortgage
rates still remain competitive and
relatively easy to obtain, when
compared to other territories. The
French market has bounced back
from the period when it closed
down for the spring confinement
- due to domestic demand - but
prices are still very reasonable.
Property Prices
The average property price in the
UK in June 2020 was £254,000; in
France the average was €170,000
(£151,000) but far lower in
the British buyer hot spots. For
example: Dordogne - €121,000;
Charente - €120,000 and Brittany's
Côte d'Amour at €135,000.
Enjoying a holiday home
The lure of a bolthole in Brittany, a
gÎte in the Dordogne, an apartment
Not everything will change after Brexit, and many Britons' appetite
for buying a home in France will certainly not alter, especially after
a life-changing 2020, reports Liz Rowlinson
Vive la France
...after Brexit
21
LEGGETT IMMOBILIER - LOCAL KNOWLEDGE YOU CAN TRUST
on the CÔte d'Azur, or the
mountains, will not fade with Brexit.
We started buying these long
before the UK became part of the
European Union. Many buyers have
bided their time in the knowledge
that their rights to buy a holiday
home will not change, and that
buying a property in France will
continue to be a great investment.
Buying from a distance
Until you can travel easily to
France, take advantage of the
virtual tours of properties, the
buying-advice webinars from
Leggett, and keep an eye out for
the resumption of the UK based
property exhibitions this year.
How long can I stay?
If you do buy a holiday home (or
already own one there) you will
most probably need to stick to
LEGGETT MAGAZINE BREXIT & RESIDENCY