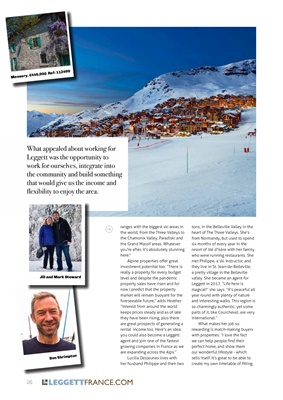 1616
ranges with the biggest ski areas in
the world, from the Three Valleys to
the Chamonix Valley, Paradiski and
the Grand Massif areas. Whatever
you're after, it's absolutely stunning
here."
Alpine properties offer great
investment potential too. "There is
really a property for every budget
level and despite the pandemic
property sales have risen and for
now I predict that the property
market will remain buoyant for the
foreseeable future," adds Heather.
"Interest from around the world
keeps prices steady and as of late
they have been rising, plus there
are great prospects of generating a
rental income too. Here's an idea;
you could also become a Leggett
agent and join one of the fastest
growing companies in France as we
are expanding across the Alps."
Lucilia Desjeunes lives with
her husband Philippe and their two
sons, in the Belleville Valley in the
heart of The Three Valleys. She's
from Normandy, but used to spend
six months of every year in the
resort of Val d'Isère with her family
who were running restaurants. She
met Philippe, a ski instructor, and
they live in St. Jean-de-Belleville,
a pretty village in the Belleville
valley. She became an agent for
Leggett in 2017. "Life here is
magical!" she says. "It's peaceful all
year round with plenty of nature
and interesting walks. This region is
so charmingly authentic, yet some
parts of it, like Courchevel, are very
international."
What makes her job so
rewarding is match-making buyers
with properties. "I love the fact
we can help people find their
perfect home, and show them
our wonderful lifestyle - which
sells itself. It's great to be able to
create my own timetable of fitting
LEGGETTFRANCE.COM
What appealed about working for
Leggett was the opportunity to
work for ourselves, integrate into
the community and build something
that would give us the income and
flexibility to enjoy the area.
Messery. €449,000 Ref: 112499
Jill and Mark Steward
Ben Shrimpton