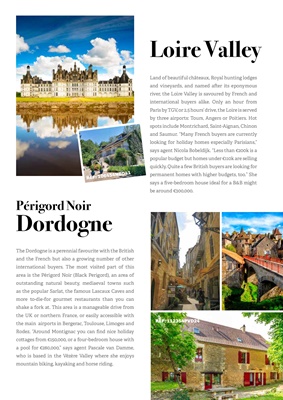 41
Albi
Loire Valley
Land of beautiful châteaux, Royal hunting lodges
and vineyards, and named after its eponymous
river, the Loire Valley is savoured by French and
international buyers alike. Only an hour from
Paris by TGV, or 2.5 hours' drive, the Loire is served
by three airports: Tours, Angers or Poitiers. Hot
spots include Montrichard, Saint-Aignan, Chinon
and Saumur. "Many French buyers are currently
looking for holiday homes especially Parisians,"
says agent Nicola Bobeldijk. "Less than €200k is a
popular budget but homes under €110k are selling
quickly. Quite a few British buyers are looking for
permanent homes with higher budgets, too." She
says a five-bedroom house ideal for a B&B might
be around €300,000.
Périgord Noir
Dordogne
The Dordogne is a perennial favourite with the British
and the French but also a growing number of other
international buyers. The most visited part of this
area is the Périgord Noir (Black Perigord), an area of
outstanding natural beauty, mediaeval towns such
as the popular Sarlat, the famous Lascaux Caves and
more to-die-for gourmet restaurants than you can
shake a fork at. This area is a manageable drive from
the UK or northern France, or easily accessible with
the main airports in Bergerac, Toulouse, Limoges and
Rodez. "Around Montignac you can find nice holiday
cottages from €150,000, or a four-bedroom house with
a pool for €280,000," says agent Pascale van Damme,
who is based in the Vézère Valley where she enjoys
mountain biking, kayaking and horse riding.
REF: 106454NBO41
REF: 112354PVD24