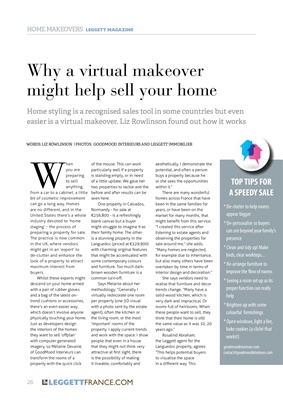 Home styling is a recognised sales tool in some countries but even
easier is a virtual makeover. Liz Rowlinson found out how it works
Why a virtual makeover
might help sell your home
WORDS: LIZ ROWLINSON | PHOTOS: GOODMOOD INTERIEURS AND LEGGETT IMMOBILIER
HOME MAKEOVERS LEGGETT MAGAZINE
LEGGETTFRANCE.COM
26
When
you are
preparing
to sell
anything,
from a car to a cabinet, a little
bit of cosmetic improvement
can go a long way. Homes
are no different, and in the
United States there's a whole
industry devoted to 'home
staging' - the process of
preparing a property for sale.
The practice is now common
in the UK, where vendors
might get in an 'expert' to
de-clutter and enhance the
look of a property to attract
maximum interest from
buyers.
Whilst these experts might
descend on your home armed
with a pair of rubber gloves
and a bag of the latest ontrend
cushions or accessories,
there's an even easier way,
which doesn't involve anyone
physically touching your home.
Just as developers design
the interiors of the homes
they want to sell 'offplan'
with computer generated
imagery, so Mélanie Devaine
of GoodMood Interieurs can
transform the rooms of a
property with the quick click
of the mouse. This can work
particularly well if a property
is standing empty, or in need
of a little update. We gave her
two properties to tackle and the
before and after results can be
seen here.
One property in Calvados,
Normandy - for sale at
€256,800 - is a refreshingly
blank canvas but a buyer
might struggle to imagine it as
their family home. The other
is a stunning property in the
Languedoc (priced at €229,900)
with charming original features
that might be accentuated with
some contemporary colours
and furniture. Too much darkbrown
wooden furniture is a
common turn-off.
Says Melanie about her
methodology: "Generally I
virtually redecorate one room
per property (one 3D visual
with a photo sent by the estate
agent), often the kitchen or
the living room, or the most
'important' rooms of the
property.  I apply current trends
and work with the space. I show
people that even in a house
that they might not think very
attractive at first sight, there
is the possibility of making
it liveable, comfortably and
aesthetically. I demonstrate the
potential; and often a person
buys a property because he
or she sees the opportunities
within it."
There are many wonderful
homes across France that have
been in the same families for
years, or have been on the
market for many months, that
might benefit from this service.
"I created this service after
listening to estate agents and
observing the properties for
sale around me," she adds.
"Many homes are neglected,
for example due to inheritance,
but also many others have been
overtaken by time in terms of
interior design and decoration."
She says vendors need to
realise that furniture and decor
trends change. "Many have a
solid-wood kitchen, which is
very dark and impractical. Or
rooms full of heirlooms. When
these people want to sell, they
think that their home is still
the same value as it was 10, 20
years ago."
Rosalind Abraham,
the Leggett agent for the
Languedoc property, agrees:
"This helps potential buyers
to visualise the space
in a different way. This
* De-clutter to help rooms
appear bigger
* De-personalise so buyers
can see beyond your family's
presence
* Clean and tidy up! Make
beds, clear worktops...
* Re-arrange furniture to
improve the flow of rooms
* Seeing a room set up as its
proper function can really
help
* Brighten up with some
colourful furnishings
* Open windows, light a fire,
bake cookies (a cliché that
works!)
goodmoodinterieurs.com
contact@goodmoodinterieurs.com
TOP TIPS FOR
A SPEEDY SALE