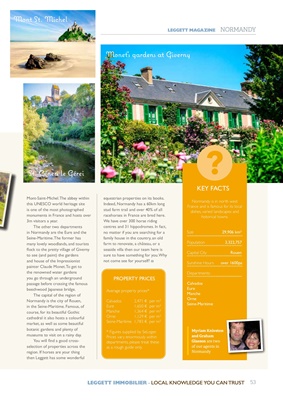 53
LEGGETT IMMOBILIER - LOCAL KNOWLEDGE YOU CAN TRUST
LEGGETT MAGAZINE NORMANDY
Mont-Saint-Michel. The abbey within
this UNESCO world heritage site
is one of the most photographed
monuments in France and hosts over
3m visitors a year.
The other two departments
in Normandy are the Eure and the
Seine-Maritime. The former has
many lovely woodlands, and tourists
flock to the pretty village of Giverny
to see (and paint) the gardens
and house of the Impressionist
painter Claude Monet. To get to
the renowned water gardens
you go through an underground
passage before crossing the famous
beechwood Japanese bridge.
The capital of the region of
Normandy is the city of Rouen,
in the Seine-Maritime. Famous, of
course, for its beautiful Gothic
cathedral it also hosts a colourful
market, as well as some beautiful
botanic gardens and plenty of
museums to visit on a rainy day.
You will find a good cross-
selection of properties across the
region. If horses are your thing
then Leggett has some wonderful
equestrian properties on its books.
Indeed, Normandy has a 60km long
stud farm trail and over 40% of all
racehorses in France are bred here.
We have over 300 horse riding
centres and 31 hippodromes. In fact,
no matter if you are searching for a
family house in the country, an old
farm to renovate, a château, or a
seaside villa then our team here is
sure to have something for you. Why
not come see for yourself?
KEY FACTS
Normandy is in north west
France and is famous for its local
dishes, varied landscapes and
historical towns.
Size 29,906 km²
Population 3,322,757
Capital City Rouen
Sunshine Hours over 1600pa
Depar tments:
Calvados
Eure
Manche
Orne
Seine-Maritime
Myriam Kniveton
and Graham
Glasson are two
of our agents in
Normandy
?
Average property prices*
Calvados 2,471 € per m²
Eure 1,650 € per m²
Manche 1,364 € per m²
Orne 1,129 € per m²
Seine-Maritime 1,783 € per m²
* Figures supplied by SeLoger.
Prices vary enormously within
departments, please treat these
as a rough guide only.
PROPERTY PRICES
St. Céneri le Gérei
Mont St. Michel
Monet's gardens at Giverny