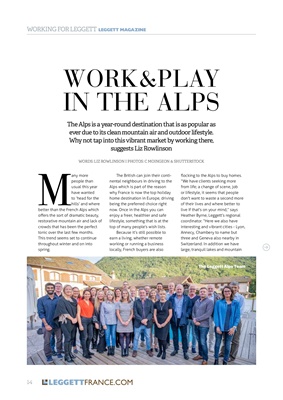 flocking to the Alps to buy homes.
"We have clients seeking more
from life; a change of scene, job
or lifestyle, it seems that people
don't want to waste a second more
of their lives and where better to
live if that's on your mind," says
Heather Byrne, Leggett's regional
coordinator. "Here we also have
interesting and vibrant cities - Lyon,
Annecy, Chambery to name but
three and Geneva also nearby in
Switzerland. In addition we have
large, tranquil lakes and mountain
14 LEGGETTFRANCE.COM
The British can join their continental neighbours
in driving to the
Alps which is part of the reason
why France is now the top holiday
home destination in Europe, driving
being the preferred choice right
now. Once in the Alps you can
enjoy a freer, healthier and safe
lifestyle, something that is at the
top of many people's wish lists.
Because it's still possible to
earn a living, whether remote
working or running a business
locally, French buyers are also
M
any more
people than
usual this year
have wanted
to 'head for the
hills' and where
better than the French Alps which
offers the sort of dramatic beauty,
restorative mountain air and lack of
crowds that has been the perfect
tonic over the last few months.
This trend seems set to continue
throughout winter and on into
spring.
WORKING FOR LEGGETT LEGGETT MAGAZINE
The Alps is a year-round destination that is as popular as
ever due to its clean mountain air and outdoor lifestyle.
Why not tap into this vibrant market by working there,
suggests Liz Rowlinson
WORDS: LIZ ROWLINSON I PHOTOS: C MOINGEON & SHUTTERSTOCK
WORK&PLAY
IN THE ALPS
The Leggett Alps Team