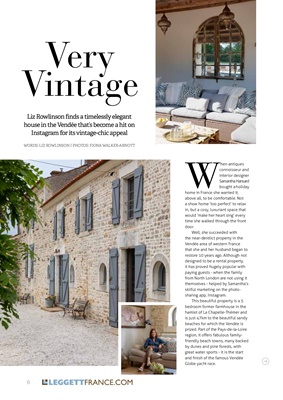 Liz Rowlinson finds a timelessly elegant
house in the Vendée that's become a hit on
Instagram for its vintage-chic appeal
6 LEGGETTFRANCE.COM
WORDS: LIZ ROWLINSON I PHOTOS: FIONA WALKER-ARNOTT
W
hen antiques
connoisseur and
interior designer
Samantha Hansard
bought a holiday
home in France she wanted it,
above all, to be comfortable. Not
a show home 'too perfect' to relax
in, but a cosy, luxuriant space that
would 'make her heart sing' every
time she walked through the front
door.
Well, she succeeded with
the near-derelict property in the
Vendée area of western France
that she and her husband began to
restore 10 years ago. Although not
designed to be a rental property,
it has proved hugely popular with
paying guests - when the family
from North London are not using it
themselves - helped by Samantha's
skilful marketing on the photosharing app,
Instagram.
This beautiful property is a 5
bedroom former farmhouse in the
hamlet of La Chapelle-Thémer and
is just 47km to the beautiful sandy
beaches for which the Vendée is
prized. Part of the Pays-de-la-Loire
region, it offers fabulous familyfriendly beach towns,
many backed
by dunes and pine forests, with
great water sports - it is the start
and finish of the famous Vendée
Globe yacht race.
Very
Vintage