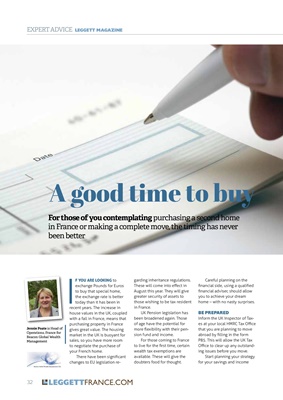 I
F YOU ARE LOOKING to
exchange Pounds for Euros
to buy that special home,
the exchange rate is better
today than it has been in
recent years. The increase in
house values in the UK, coupled
with a fall in France, means that
purchasing property in France
gives great value. The housing
market in the UK is buoyant for
sales, so you have more room
to negotiate the purchase of
your French home.
There have been significant
changes to EU legislation regarding
inheritance regulations.
These will come into effect in
August this year. They will give
greater security of assets to
those wishing to be tax resident
in France.
UK Pension legislation has
been broadened again. Those
of age have the potential for
more flexibility with their pension fund and income.
For those coming to France
to live for the first time, certain
wealth tax exemptions are
available. These will give the
doubters food for thought.
Careful planning on the
financial side, using a qualified
financial adviser, should allow
you to achieve your dream
home - with no nasty surprises.
BE PREPARED
Inform the UK Inspector of Taxes at your
local HMRC Tax Office
that you are planning to move
abroad by filling in the form
P85. This will allow the UK Tax
Office to clear up any outstanding issues
before you move.
Start planning your strategy
for your savings and income
Jennie Poate is Head of
Operations, France for
Beacon Global Wealth
Management
EXPERT ADVICE LEGGETT MAGAZINE
A good time to buy
For those of you contemplating purchasing a second home
in France or making a complete move, the timing has never
been better